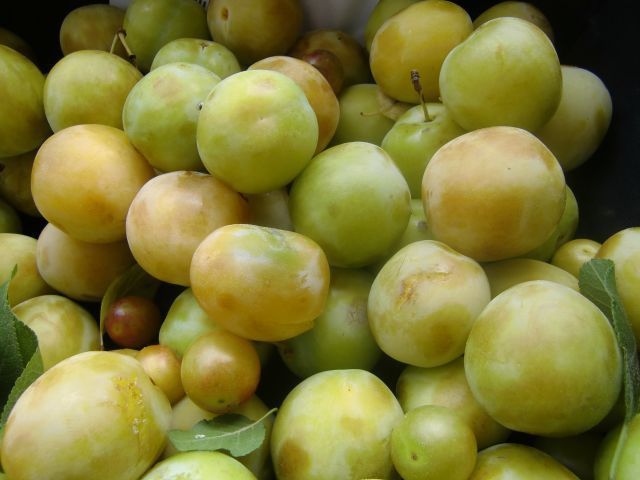 What I like about living in Europe is that you can still pick fresh fruits for free, even in urban areas. All you need to have is an attentive eye for splattered, rotting fruit underfoot and you begin to notice which fruits are in season.
I was going about my normal jogging route when I noticed black fruit flies congregating on sticky-looking mush on the pavement. I looked up and saw a tree laden with huge yellow egg plums! They deserve the name, it really are as huge as small eggs. I returned with a net and a basket after my jog and hauled a total of five kilos of fruit. My basket was only a fourth full!
The plums were tart with their skins, but they were super sweet with the skins peeled off. And the seed just separated itself so easily, which is a big advantage for fruit. I baked a plum cake, and I still had a kilo left over. Unfortunately, plums don't keep well, so I had to throw the rest away, despite snacking on them non-stop since last weekend. The cake is safely stored in the freezer, and I now have cake to feed unexpected guests with.
Plum and mirabelle season is  in full swing in Europe, so I reckon you should get out there and pick them plums!