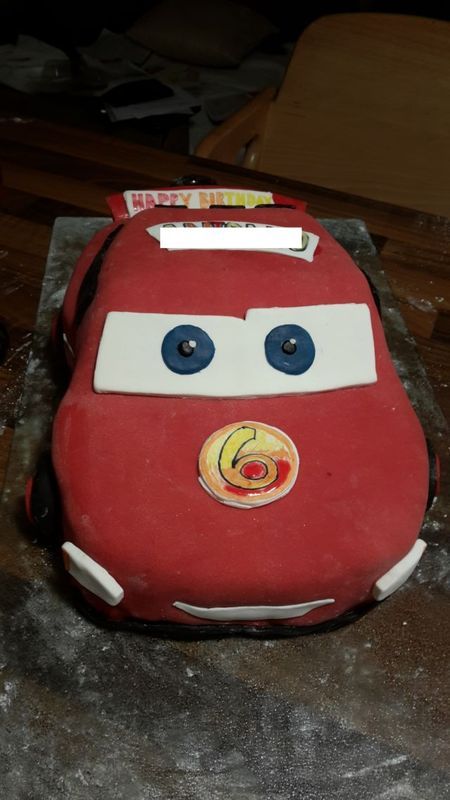 So a birthday boy needed a birthday cake. This is the first time that I pulled off something like this! The process is chronicled on my Instagram account (click right!). Thank my lucky stars that fondant is now readily available in supermarkets in Germany. It's not perfect, but it took me a week to put this together (It would've been shorter if I didn't spend the day hacking my brains out! I was seriously ill with the flu.)
I baked my go to chocolate buttermilk cake for this one. I baked three times the amount of the recipe, and split the batter between two 9×13 inch pans and one 8×8 inch square brownie pan. I also used Magnolia bakery's chocolate buttercream icing recipe. You would need 1 and ahalf to two portions of the icing to cover the cake.  But you can use whatever cake/frosting recipe you prefer. After baking and cooling the cakes, I stacked the second cake over the first cake, the second cake upside down so that the flat bottom was facing up, using the icing to keep them together. Then I iced 2/3rds of the top layer, and stacked the square cake on it.
I carved the cake using a bread knife for the general shape, and a small steak knife for the refining details. Then I "dirty iced" the cake to keep all the crumbs in, and left it outside, covered with a stiff shopping bag, to freeze. The real reason I prefer baking in winter is because I don't have a box freezer, and I could just leave it outside when the recipe calls for freezing or refrigerating.
The night the cake spent outside should sufficiently stabilize the cake enough to support the heavy fondant. I needed two big bricks of red fondant, one medium sized brick of black, another medium sized brick of white, and some blue.
The biggest discovery I made so far was pens with food coloring ink to paint the sides and logos! It was really helpful. The wheels were made by pressing an espresso cup into the black fondant, smothing it out with my hands, and sticking it to the sides of the cake.
The kids ended up not liking the cake, and treated it more like a sculpture than food. but hey, it was a great learning experience.