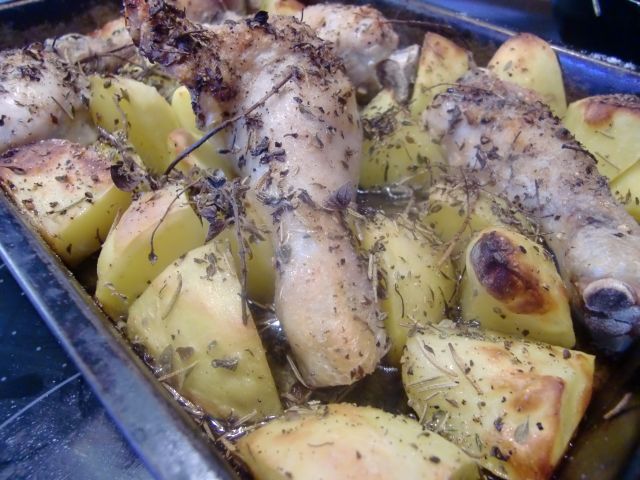 If you are the lazy or busy sort, I've got the perfect, let's impress the in-laws recipe for you: Roasted Chicken with herbs and Potatoes. Fairly typical recipe from Mediterranean countries like Italy or Greece, it is so easy you can make it up as you go along.
With this year's herbs planted on my balcony, it was time for me to rid my shelf of last year's dried oregano, thyme, and rosemary. What better way to get rid of them than Roasted Chicken? I bought a 400g packet of chicken legs and got to work, although to be quite honest, any kind of chicken part will do.
Peel four medium-sized potatoes, slice them into quarters. rub salt, pepper, and herbs onto the skin and into the nooks and crannies of the chicken. Place everything into an 8 inch by 12 inch pan. Crack some salt and pepper over the potatoes with a mill  Drizzle over 5 tablespoons of cooking olive oil on everything. Bake in a pre-heated oven in 200° C for 20 minutes, until the chicken and the edges of the potatoes turn brown. Enjoy the low-fat crispiness of the chicken skin on top, and the savory oil sauce that emerges from the bottom.