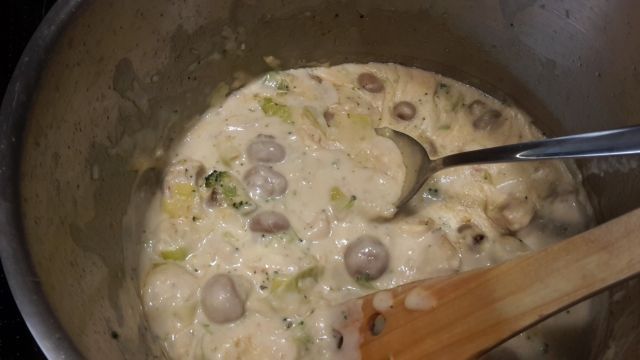 Something really cool happened to me last month.
I had leftover broccoli and a few potatoes and tomatoes from dinner the night before, so I decided to make an improvised Chicken a la King. I still had leftover whipping cream in the fridge that needed using, and some canned button mushrooms in the cupboard. I went to the supermarket and bought a 250 g pack of chicken breast, which I diced and boiled in three cups of salted water.
I melted three tablespoons of butter/clarified butter in a pan, added the vegetables. Drained the mushrooms, tossed them in. Added three tablespoons of flour and made a roux. Poured in the cream little by little, alternating with the chicken broth from the diced chicken. Added in the chicken pieces and let it simmer uncovered for five minutes. Then seasoned it with pepper and fish sauce (trust me, it tastes better).
It's hard cooking in what is practically a single-person household. So here comes the best part. I posted the leftover of the leftover dinner on a food sharing Facebook group. A lady with a kid took the leftovers from my hands. And had a great dinner with her kid.
It felt so good that I ended up not eating the same thing three days in a row. Even better was that I got to help out another mom. I might be posting on that group more often!