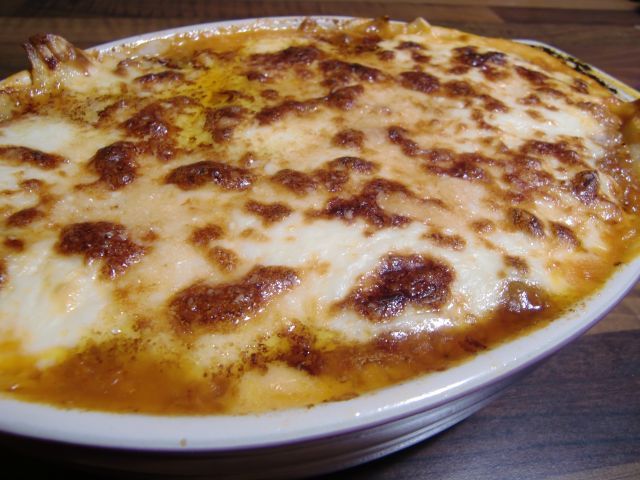 This recipe from The Silver Spoon cookbook is a recipe that I could very well get behind. It is very easy to make, the ingredients are not hard to find, even in the Philippines. It also emphasizes the simplicity of Italian cooking.
The recipe serves 4.
3 Tablespoons olive oil, 1 chopped carrot, 1 chopped onion, 300 g ground meat. 100 ml dry white wine, 250 g tomato sauce, 25 g butter, plus extra for greasing, and Bechamel sauce. 
Make the noodles beforehand. While waiting for it to rest, make the sauce by sauteeing the carrots and onions in low heat, stirring occasionally for 5 minutes. Add the meat and stir until browned, then pour the wine and cook until evaporated. Season the salt, add the tomato sauce, and simmer for 30 minutes. Then season with pepper. Pre-heat the oven to 200°C (400°F). Grease a small baking dish (9×11 inches approximately) with butter.
Meanwhile, roll out the pasta to appropriate thinness, and into 4 inch squares (10 cm). Let dry for 2-3 minutes and then cook in a pot of salted water in a rolling boil, a few at a time. Take out with a slotted spoon and place on a damp tea towel.  Arrange a layer of lasagne, meat sauce, and bechamel sauce on top. Sprinkle with parmesan sauce and dot with butter flakes. Repeat the layers until the dish is full, ending with a layer of bechamel sauce. Bake for 30 minutes.