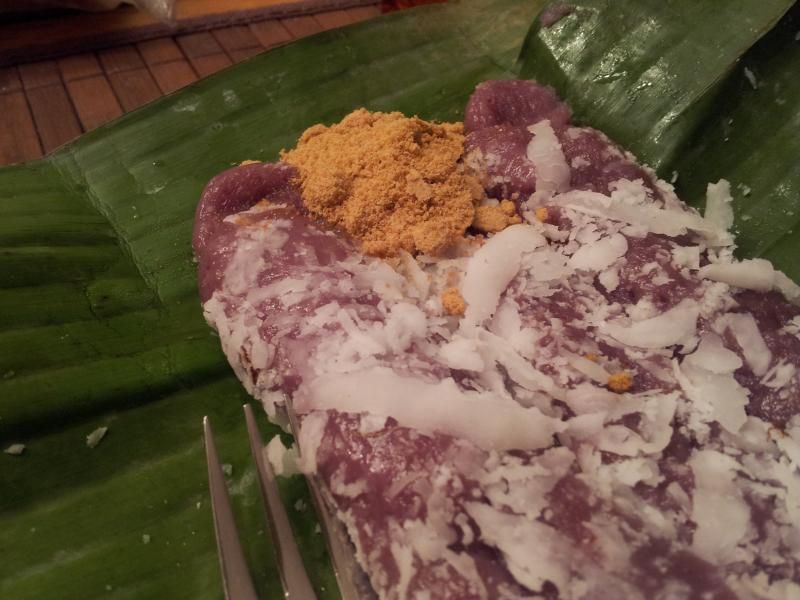 Puto Bumbong is one of the things I miss the most about the Philippines. I guess it also has something to do with the fact that I miss Filipino Christmastime, and Puto Bumbong is the thing that reminds me the most of it. It is made of coconut milk, rice flour, and purple yam, called Ube in the Philippines, and steamed in the hollow of a bamboo reed (hence the name Bumbong, the word for bamboo reed.)
So imagine my delight when my friend prepared some puto bumbong for me, with enough left over to take home! She made it in her rice cooker, which has left me contemplating whether I should get one. As I said, I must be the only Filipino on the planet who is rice cooker-less.
East and Southeast Asian desserts, in general, are an acquired taste for Europeans because many are made of rice. The gooey, chewy texture is very weird for them. I completely understand! I guess it is one of those things you have to grow up with to love. My friend's husband gave me the side-eye as I enjoyed my Puto Bumbong with grated coconut and muscovado sugar.
With my puto bumbong craving satisfied for the meantime, I think I'll make more of these in the future!