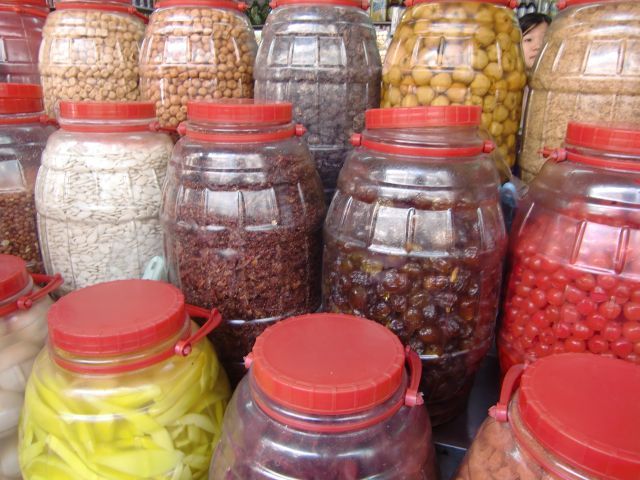 I just love Chinatowns. I love the crowd, the vibe, and especially the food. Manila Chinatown is a part of my childhood, as my grandparents regularly took me here as a child. My gradfather lived in the area until his 20s, and knew the backalleys of Chinatown very well.
Ivan Man Dy's Old Manila Walks, especially his Chinese New Year tours, are something I would definitely recommend to Filipinos and people who want to learn more about Filipinos. And eating really great food along the way. And burning it all of while walking in the humid Manila air. I for one am glad that Chinese New Year is now more widely celebrated in the Phlippines outside of the Philippine-Chinese community.
I've spoken abot the New Po Heng Lumpia House in an old entry, but we visited a lot of more established restaurants and hole-in-the-walls than I indicated. I learned a lot about Chinese New Year's traditions, ate really good bola-bola soup at the Cafe Mezzanine, which sponsors the district's firefighting brigade. Then off to another hole-in-the-wall to eat spring dimsum. Then a variation of dough fried in oil, which he is holding up for everyone to see, and a little stop at a lumpia house.
While eating my bola-bola soup, I got into conversation with a British expat couple who had been living in Manila for the past three years. With them was the husband's wheelchair-dependent mother. When I asked how were they able to keep her mobile, they beamed about the helpfulness of Filipinos, who always parted like the red sea in Chinatown's busy streets to make way for her, even carrying her up and down flights of stairs if need be. In fact it's her second tour. Way to go Pinoy hospitality!
I'm not sure if all of his tours are like this, but at the end of his New Year tour he had a lot of giveaways, and reminded me of an Oprah's Wildest Dreams episode. With or without the gifts, the tour was a lot of fun and yummy to boot!