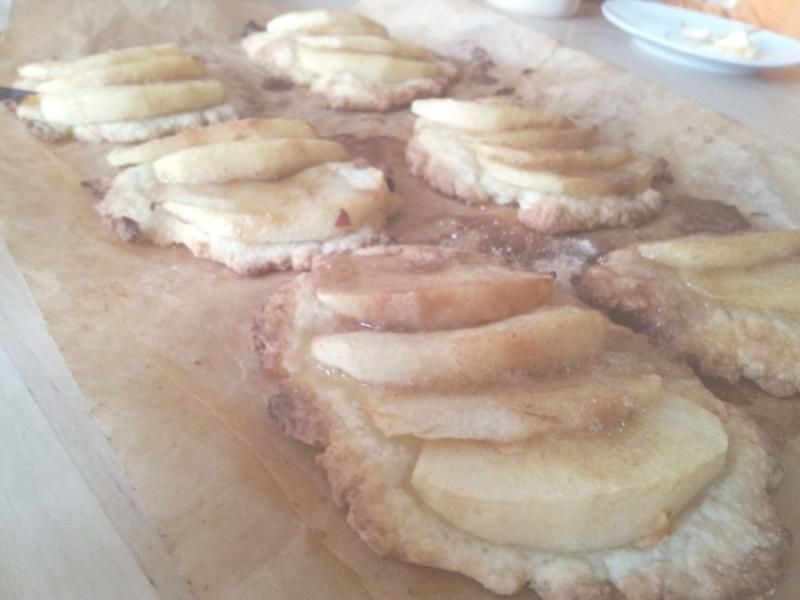 I am generally a patient person. I couldn't be an English teacher if I weren't. However my friend Anne has got me beat. She is excellent in involving her kids in the process of cooking and food preparation. I tend to be perfectionist, and do get irritated when my kid doesn't or can't make it like Mommy does.
So last week we got together and made something wonderful out of two almost overripe apples. They are easy to make, and my son and his friends had a lot of fun making them. So what if they aren't perfect? They taste divine just out of the oven, and that is all that matters.
The recipe comes from Backzeit, a baking cookbook sponsored by Swiss Milk Producers Association.
You'll need: For the base, 200g flour, 1/2 tsp. baking powder, a pinch of salt, 3 Tbsp. sugar, 100 g cold butter, cut into small squares, and a scrambled egg.
For the toppings, 3 Apples (Cox Orange recommended, but not necessesary); cored, peeled and cut thinly lengthwise,  50 g melted butter, 2 Tbsp sugar and 1/2 tsp cinnamon.
Pre-heat oven to 220°C. Mix all the dry ingredients together. Add the butter and rub it with your hands into the dry ingredients. Form a well, drop the egg, and mix only until well incorporated: DO NOT KNEAD. Wrap with plastic film and chill for 30 minutes.
Meanwhile, you can peel and halve the apples. Remove the cores, slice the apples in quarters, then again into thin slices. Mix the melted butter with the sugar and cinnamon.
Pinch out a walnut-sized piece of dough and roll it flat. Alternatively, you can roll the entire thing flat and use a round cookie cutter 3 inches in diameter and punch out the cookie dough.  Place the apples on them accordion-style and brush them with the butter-cinnamon mixture. Place them on a baking sheet lined with parchment paper and  bake for 15 minutes. Serve warm and enjoy!