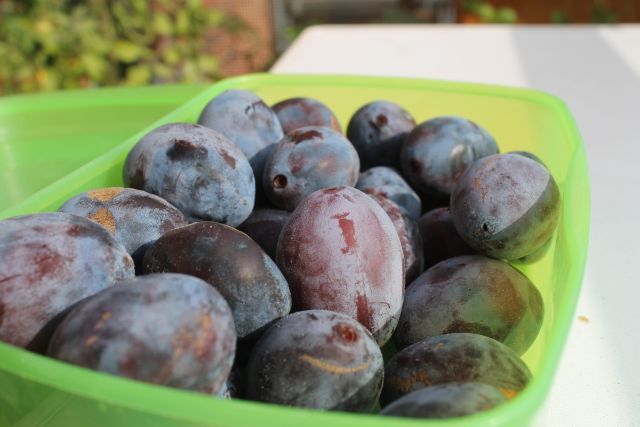 Sooooo….I have discovered the motherlode of plum trees in Erfurt, not far from where I work. Like a whole grove of plum and apple trees, with nobody paying attention to them! My son and I picked a bucket full of plums last weekend. They are what Germans call Zwetschge, a variety of plum that is deep purple, slim, and long-ish. We got a total of three kilos!  After the initial frenzy of ALL THOSE PLUMS wore off, I kinda scratched my head and asked myself what the hell was I gonna do with all those plums?
So I made Pflaumenmus, what should be translated as plum jam, but it is more of a plum puree. Three kilos fortunately fit into my six quart dutch oven, which proved itself once again as an excellent investment! I filled four large jars with the stuff. I don't even like Pflaumenmus, so I'm gonna learn how to like it These next couple of months. Or maybe use them to fill jelly donuts?
So far I have baked three batches of plum coffee cakes, with streusel so they would keep better in the freezer. I've been giving them away like mad and I don't think I'll be picking any more plums this season!