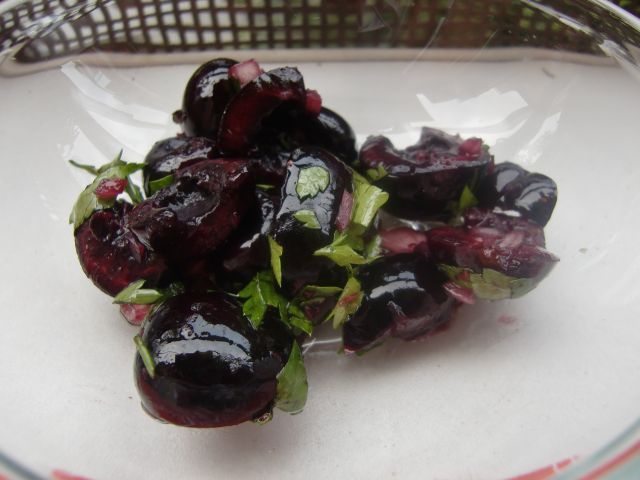 I had never really thought of cherries as a savory food, but after harvesting a bucket full of cherries and already filled three and a half jars full of jam, I was kind of under pressure be creative.
The thing is that cherries tend to attract insects and their offspring while on the tree. While swallowing a maggot or two never harmed anybody, I didn't fancy getting a belly full of maggots. That, and cherries tend to mold quickly so that you had a three day time window to consume them. The secret is to not wash the cherries until just about the point that you are to consume or use them!
I spotted a recipe from a colleague's North & South, a monthly magazine from New Zealand, in their February 2008 issue.  It featured a family's cherry farm, and also shared some recipes of their own, which included a cherry salsa
All you need to do is to mix together 36 stoned and diced fresh cherries, ½ diced red onion, 174 handful flat-leaf parsley, Zest of half a lemon, 100 ml olive oil, 25 ml vincotta, Sea salt, and cracked pepper.
Because I didn't have vincotta, a sauce made from sticky grape extract, I decided to play around this recipe a bit and made a chutney instead, using the pan drippings from the accompanying beef steak that night.
So I sautéed the onions in low heat, added the cherries, added all the seasonings and sprinkled the parsley just before serving. It tasted great and was a good contrast to the salty beef steak. A great way to use cherries!