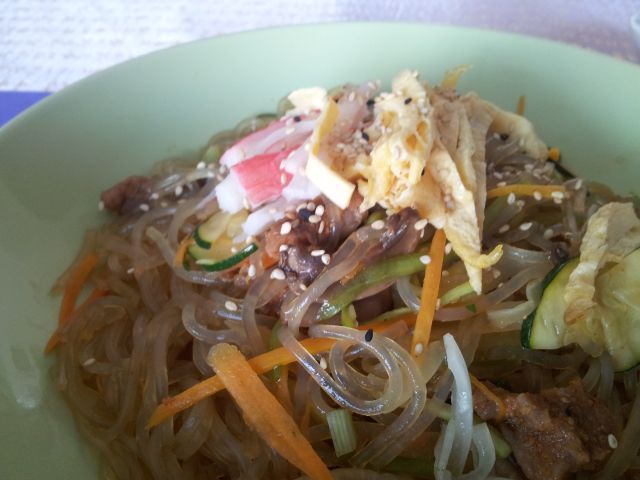 Sometimes, I am not sure if something is delicious because it is delicious, or it is because of nostalgia.
One of the things that I have sorely missed is a good Chapchae, Korean glass noodles made from mung bean. Last time I ate it, I made it myself. Or was it in Manila? Nevertheless, Korean food is finally making its way to the provinces of Germany, with San in Weimar, and now, Bab & Bab in Erfurt!
It is run by 2 very nice German-speaking Korean ladies. It is very close to the hospital and the university, right in front of the tram stop "Klinikum". I made a mental note to drop by as soon as I got the chance, and ordered a big bowl of Chapchae that I inhaled, slippery metal chopsticks be damned.
They have € 5.50 lunch specials, and they don't serve much outside of the hits of Korean cuisine (Bibimbap, Chapchae, Kimchi). The Kimchi, which they make themselves, is delicious. Just the right amount of tang and spice that added that welcome kick to the Chapchae.
So to settle things, I will have to make another visit. I am encouraged by their assertion that they have a very busy lunch crowd, because I really want them to stay!
Bab & Bab
Nordhäuserstr. 72, 99089 Erfurt
0361 7896 0440
Open Mo-Fri 10:30 am- 9 pm
Sunday 11 am- 9 pm