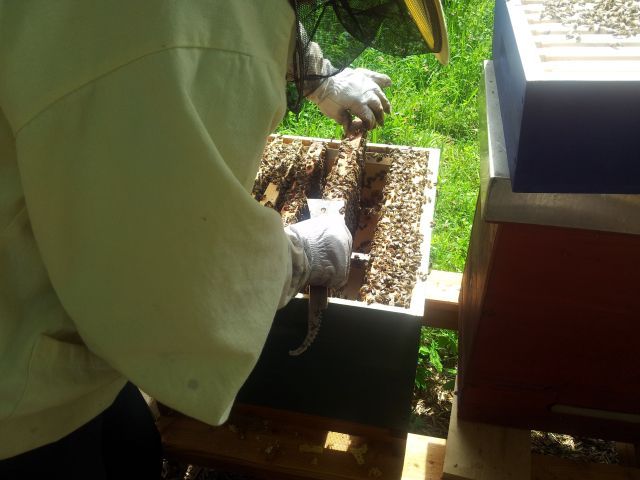 The Garden has been discussing keeping bees, and I have expressed interest in becoming one of the garden's beekeepers. One of our affiliated organizations, The Fuchsfarm, held an Open Day at their garden and let guests watch while they harvested the honey and filled them up in jars.
It was so interesting to find out how equipment and time-intensive beekeeping is, especially in the summer. Keeping bees are really like keeping pets!
So first, the beekeeper takes the honeycomb out of the wooden hive and sprays the bees away with a smoker. The cells are waxed shut by the bees when they are full, so, they won't spill. They are then put in a bigger box, then taken inside.
With a small fine-toothed rake, pry off the wax covers on the cells on an easel that is propped over a tray.
The combs are put into a steel drum, which has a crank that turns the frame that holds the wooden honeycombs. The centrifugal force flings the honey to the sides of the drum and drips down to the funneled bottom of the drum. The bottom of the drum has a tap, which is then flipped open and the honey trickles into a sieve-topped pail which catches the last bits of wax that is still in the honey.
The pail itself has a tap at the bottom, and the honey is filled into glass jars that are sold on-site.
But of course, bee keeping is not without its risks. As I was taking off my protective gear in the shed, an unseen bee stung the palm of my hand! As they took out the stinger, I was given a homeompathic pellet to minimize the swelling, then another pressed a cold onion half-globe onto the swollen area.
A bit later I rubbed crushed Spitzwegerich on the area. It still smarts, but it feels much better now. I am still thinking if I should get into beekeeping, since I may not have the time to invest in it. But I would still like to try!