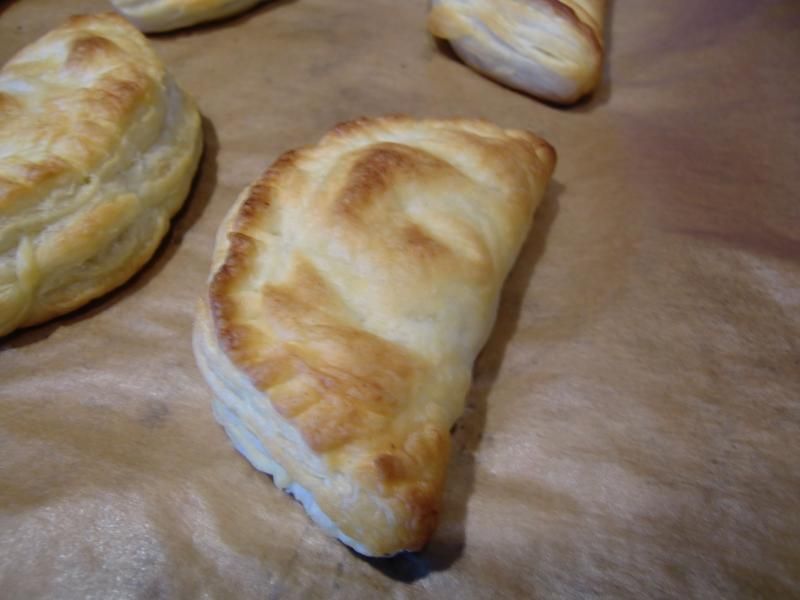 I love empanadas! The Spanish version of the sandwich is a shared culinary legacy among all Hispanic countries, and this quick recipe is even made easier because ready-made puff pastry (Blätterteig)  is available in German supermarkets. No more making my own dough! I would, however, not recommend re-rolling to re-use the rest of the pastry because then they puff up too much.
I was under pressure to make these empanadas and clocked myself making them in 1 hour and 30 minutes total, from start to finish including waiting time. It also helped that cubed chicken bits are available pre-packaged in supermarkets here.
I normally use 4 rolls of puff pastry from the supermarket. 3 garlic cloves and 1 small onion, finely chopped, 1 (about 420 g) pound cubed (maybe 1/2 inch by 1/2 inch?) chicken breast,100 g frozen green peas, 100 g raisins (could be less, or optional), 1 small potato and 1 small carrot, diced
Pre-heat oven to 200° C and bring out the green peas to defrost. Sauté the garlic and onions in about 2 tablespoons of oil, then add the chicken, and fry until no longer pink. Add two to three dashes of salt to bring out the juices from the chicken. Add the potatoes and carrots, letting them absorb the liquid from the chicken. Stir fry for about five minutes, add the green peas and then the raisins, and season with salt and pepper. The raisins should absorb the rest of the liquid from the chicken, and maybe the remaining ice/water from the peas. When the potatoes and peas are done, put the mix in a collander and let the excess liquid drip off. Wait for the filling to cool! Puff pastry is mostly butter, and the heat could weaken the dough.
Meanwhile, I got to work on the shells. I used a small bowl about 7 inches across to cut out circles into the unfurled puff pastry. A Tablespoon of the filling in the middle, fold the dough in half, then crimp and seal the edges with the tines of a fork. Pierce the shell three times, and bake for about fifteen to twenty minutes, until golden. The filling is enough to make 35 empanadas, or you can only buy two puff pastry rolls, set aside half of the filling, then add tomato sauce and a bay leaf to make Philippine-style chicken menudo from the leftovers. I am getting better at this waste not thing.