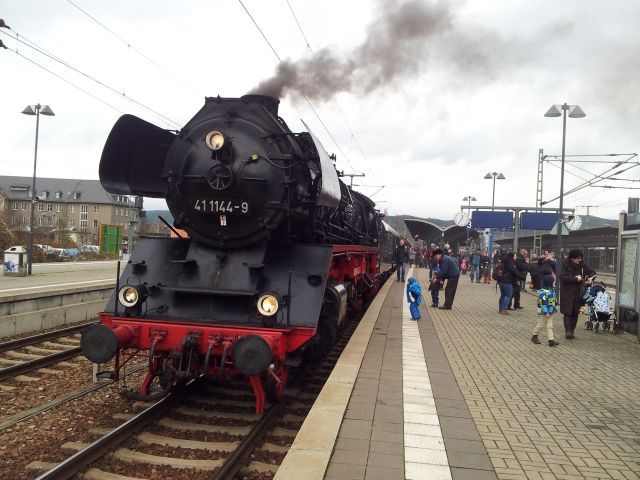 My boy is a boy. I tried to encourage a gender-neutral upbringing, but no dice. The boy loves his toy cars and trains. Friday morning was extra special. He got up early, and excitedly played with his Thomas and Friends locomotives.
Every year, the Deutsche Bahn with a group dedicated to train preservation organizes about four events a year with a DRB Steam Engine–the train drivers even wear engineer's caps for authenticity. The events are mostly geared towards children, like the Nikolaus Express. Nikolaus is the original Santa Claus, who comes to Germany and gives candy to children on December 6. So of course I try to book tickets for us every year.
This year's trip was once again filled with small freebies. This year we got a pocket storybook, a keychain, a re-usable bag, book markers, and of course, chocolate and candy. Aside from the sights of the countryside, it is quite interesting to see Dampflok afficionados throughout the route following and photographing the train as if it were a model.  It is very much worth the ticket price of 15 euros!
Tickets can be bought over this website. It is important to get the tickets at least two months in advance, since they sell out quite quickly!
Aside from the