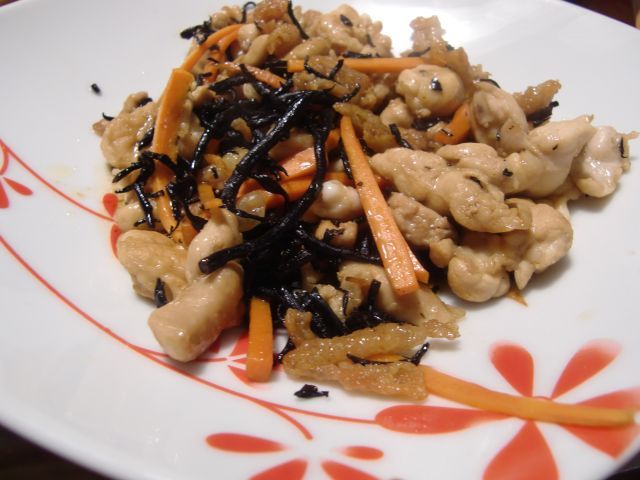 I have a packet of seaweed that has been sitting in my cupboard since 2010 which I had no idea what to do with until I came upon a recipe in the book Sushi and Japanese.
While the recipe called for 90 grams, I only had 5 grams. Oops. But it didn't really matter, since I didn't have enough chicken anyway, because I had chicken wings and not chicken breasts. Taking meat off a chicken wing is a bitch, however the results were amazing, so I am sharing this recipe from the book.
Soak 90 grams of dried hijiki seaweed in water for 30 minutes. Meanwhile, peel the skin off 150 grams of dressed chicken breast. Parboil the chicken skin in boiling water for one minute, drain, then scrape the yellow fat underneath. Discard the clear membrane between the fat and the skin. Cut the skin into thin strips and the chicken in bite-sized chunks. Peel a small carrot and chop it into thin matchsticks.
Heat one tablespoon of vegetable oil in a pan , and when the oil is hot, carefully put in the chicken skin (be careful of the splatter!) in the oil and stir fry until golden. Add the chicken meat and stir-fry until the color changes. Drain the seaweed, put it in the pan, stir around for a minute, then add the carrots.
Season with half a cup of daishi stock, 2 tablespoons of sake, 2 tablespoons sugar, and three tablespoons of shoyu soy sauce and a pinch of cayenne pepper. Lower the heat and cook for five more minutes before removing the pan from heat and leave to cool for 10 minutes. Serve in small bowls.