I may have overdone it with the thriftiness this time. I have a shelf in my hallway that used to be a messy corner of my apartment. My aunt came over and gave it a make-over and turned it into a decorative corner of the house. Since the sun doesn't directly shine on that corner, plants obviously can't survive there, and I have had a rotating cast of cut flowers brighten up the place.
So I was at a flower shop when I saw the most ingenious flower arrangement ever! I hate decorative squash varieties cos I generally refuse to care for non-useful fruit-bearing plants. But they hollowed them out, put in floral foam, and gussied up that thing. Seasonal and pretty! It also would have set me back almost 9 euros. No way was I gonna shell out that much for a flower arrangement just for my hallway. So I bought a simpler arrangement, and remembered that I was going to EGA park the day after tomorrow for their kids Halloween party. They were giving away all the squash and pumpkins that made up their temporary squash sculptures, complete with a squash fight. After getting some mini-pumpkins to carve, I sought out a long-ish gourd with nice green-orange coloring. I didn't wash away the mud because I felt it made for more interesting color.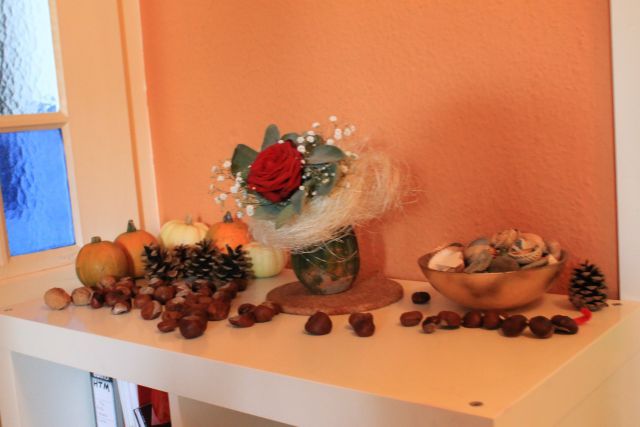 I think it went very well with our seasonal display in our hallway. And it cost me maybe 5 bucks?