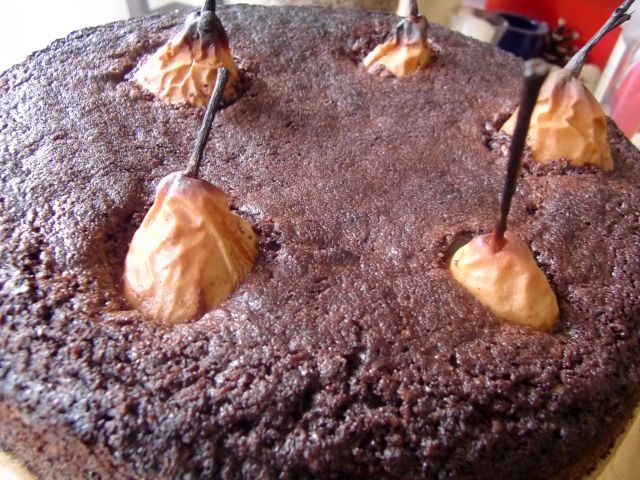 The air is starting to be crisper, leaves turning into wonderful shades of red and brown. Truly, Fall is slowly creeping into my kitchen as well. I got a windfall of pears, and I have been itching to try out a recipe ever since I saw a picture of it in New Urban Farmer from Celia Brooks Brown.
Apart from its appearance, the cake is also unsusual in that chocolate cakes are normally made moist by the amount of oil in them. This is made moist by the pear juice. It looks really stunning in person and I can only recommend this cake.
Ingredients:
100 g all purpose flour, 1 packet baking powder, 50 g cocoa powder, 50 g ground almonds, 175 g softened salted butter, 175 g brown sugar, 3 eggs, 2 Tbsp. milk, 5 small pears or 4 big pears.
You need a 23 cm (9 inch) springform pan. Line it with parchment paper and grease the sides. Pre-heat the pan to 180°C.
Mix the dry ingredients together well. First the flour, cocoa and baking powder, then the ground almonds.
With an electric mixer, mix the butter and sugar together until fluffy. Mix in an egg, and add a tablespoon of the dry ingredients. Add the two other eggs, then the flour mixture with the milk. Pour this into the pan and spread it evenly with a spatula.
Slice off the bottom of the pears and place them in the batter. Make sure that the pears are at least an inch apart and an inch away from the border. Place in the oven for 45-60 minutes. (I followed the recipe but I ended up with a burned cake. I'd say 30-45 minutes. trust your instincts on this one!) Let cool and separate from the form. Could be served with whipped cream.