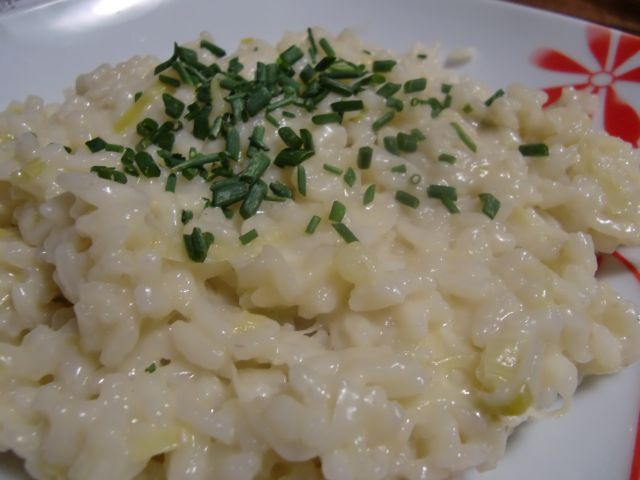 When I am down, what I really like to do is sink myself into a good book, or lose myself in the kitchen. When I get into my introverted phases, I emerge more willing to engage and socialize. Some may not understand this, but sometimes, my wanting to withdraw and actually being alone is the best way to recharge my batteries.
My zucchini plant had started to flower, and I finally got to make an Italian recipe I've been dying to try since December of last year, so I called off all social engagements and got to work on my own personal Italian dinner.
The first thing I tried out was Nigella Lawson's Cheddar Cheese Risotto recipe.(It seems that this blog is turning into Nigella Central. Maybe I should re-name it the Cathy/Nigella Project. But I digress.)
I had spinach broth sitting in my freezer, and it was a good way to rid myself of last year's veggie broth. I also used Bärlauch Senf from Gaumenfreude, and it complemented the dish, since I was using leeks and chives.  It was relatively easy to cook. Letting it stand over the cold stove after cooking while I was preparing a second dish was actually a good way to let the rice absorb all the liquid and thoroughly cook the risotto. I have never been good with risotto, and the rice kernels end up with a hard center. Being Asian, I am used to cooking rice by steeping it over low temperatures, when the secret of risotto is actually setting the heat to medium-low to get the rice al dente. I think this is the first time I finally got risotto right!
It was a good vegetarian dish. The cheese with the risotto rice highlighted the creamy consistency of the dish.  But being a meat eater, the dish for me lacked a component that made me say hmm, that was filling. I guess that's how eating only starches feels like. I ate this the next day with crispy bacon bits and all was right with the world again.