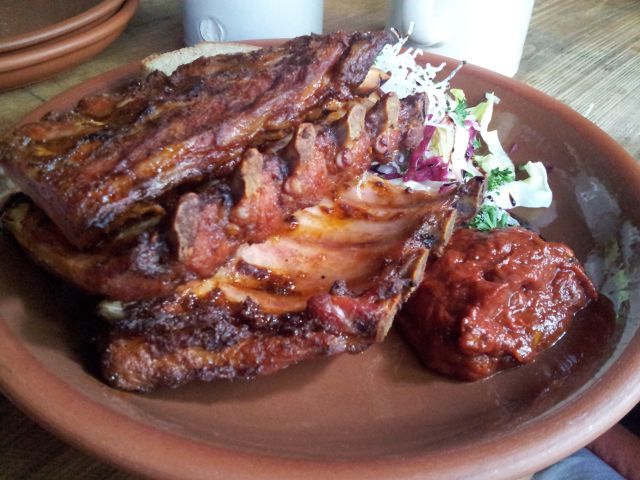 Erfurt is a town that has an intact city center that dates back to the middle ages. Walking through its cobblestoned streets, it is not hard to imagine what it was like before there were cars, the internet, or the invention of the deodorant.
But I digress. What is a medieval town without a hokey medieval restaurant? I've been to Christoffel a couple of times, and I've thoroughly enjoyed the experience, as long as you don't take anything too seriously. From the court jesters to the use of faux olde Deytsche, Christoffel is a fun place to spend an evening.
The portions are huge, and I've never been disappointed by any of the grilled meats that they have served. The photo above is a platter of eat-all-you-can ribs, and I was so stuffed that I had to take home two of them.
This is the place to take an American visiting Erfurt. It has a very Disneyland/Ren Faire vibe to it, and be forewarned none of the dishes are authentic medieval (gasp!). If it were, we should be eating turnips and horsebread. Although sometimes I do wonder if the guests actually buy that. I get the impression that they do.
Wirtshaus Christoffel
Michaelisstraße 41
99084 Erfurt