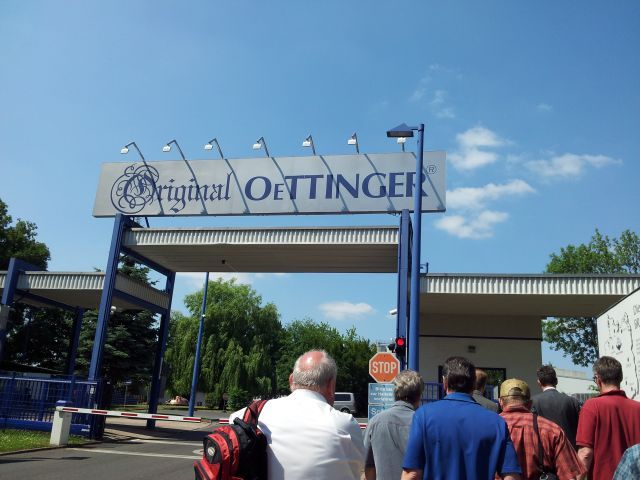 As a kid growing up in Manila, class trips in the fourth grade usually meant a visit to a factory of some sort. Living in the South, that meant that a visit to the Coca-Cola™ bottling plant in Laguna. You were always given a bottle of refreshing Coke™ at the end of the visit to quench your thirst. Gotta start them young!
I got that very distinct feeling after visiting the Oettinger brewery in Gotha. What, with the summer weather and the beer at the end. Basically a grown-up version of visiting the Coca-Cola™ bottling plant. Oettinger, based in Munich, is the largest brewery corportation in Germany. With five breweries spread across Germany, it makes sure that transportation costs are kept to a minimum and that beer could be transported to stores within the next three hours. It doesn't mean that it's distribution stops there. It is also one, if not the only,  German beer you will be able to buy in a provincial airport while waiting for your Cessna that will take you to a remote island in the Philippines.
Now, there is something that you have to understand about Oettinger. Because it is able to keep its overhead and bottling costs low, it is very cheap. Being the preferred cheap beer of alkies (PBR?) it has a horrible, if undeserved, reputation. There's a joke that an Oettinger truck met an accident on the highway, and nobody stopped to loot the beer.
It's interesting to see food and fermentation on a massive scale. I'm reading Michael Pollan's Cooked at the moment, and all I could think of was tiny bacteria that was responsible for brewing 2,500 hectoliters per tank. And there were about 26 (?) of them.
They also export "Made in Germany!" beer to Africa and China. Where Oettinger has a somewhat better reputation (?). Being a journalist I had to ask some very uncomfortable questions.
Me: "Do you change the formula of the beer for the foreign market?"
Braumeister: "No."
Me: "Why is Oettinger so cheap?"
Braumeister: "We try to keep transportation costs to a minimum, that is why we have five breweries in Germany."
Me: "Then why does Oettinger the but of jokes?"
Braumeister: (Pause. Silence.) "We were recently featured in Galileo where we were voted as the best beer in Germany. I guess the cheapness of the beer basically…"
I see what you did there Mr. Braumeister. Well played!
He must have hated me after that. I must confess that i tend to be a tactless, nosy busybody, in case no one has noticed it yet!
I guess the best part of the field trip was that I got to take home two cans of beer from the reject bin. I mean really slight indentations in the can that you can barely notice. They have got scanning software that recognizes imperfections in the cans and they are immediately sorted out of the bottling line. The yellow ones are for the Chinese market, the white ones for Africa. Since I don't drink beer, it's nice to have some in stock for guests.
The only thing that was missing was a roadside stall stop for buko pie.
Zweigniederlassung der Oettinger Brauerei GmbH
Leinastraße 61-63
D-99867 Gotha