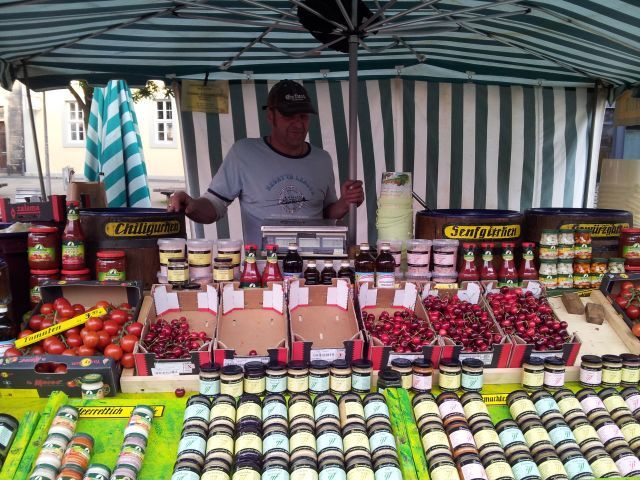 What does the word suki mean? For a person who runs a household, everything.
Suki is a Filipino word, which in German, translates to Stammkunde, or a regular customer of a particular shop.
Gaumenfreude in Erfurt is a pop-up shop that sells their own mustard mixes, jams, condiments, and sauces. They also sell preserves from the region, things like Sauerkraut and pickles made the old fashioned way–without any vinegar used to preserve them!
I always buy their Bärlauch Senf or mustard. Bärlauch, a wild relative of leeks, is a German obsession in the spring. They collect them when they can find them in woods and parks everywhere. Of course they were going to pair it up with mustard, Germany's favorite condiment.  I love this particular mustard so much I use it on everything! Dips, sauces, and as a seasoning for stewed meat.
Gaumenfreude's stall can usually be found at the Erfurt farmer's market on Saturdays or whenever there is a festival in the Erfurt-Weimar area. The man at the shop recognizes me already, and always gives me something to nibble on as a thank you. Last time we saw each other, he wanted to give me a cherry. But since I love me some pickles, I asked for one. 😀 The perks of a suki.