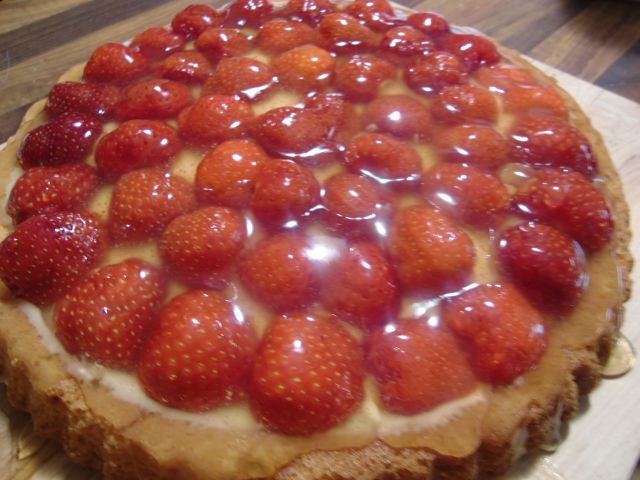 So thanks to a bumper crop of strawberries from my in-law's garden, I had two kilos of fruit that needed to be worked on, fast.
The thing about German berries is that time is of the essence. You can't just leave them open for a few days. Like cherries, berries have to be either eaten or turned into something  within two days after picking, or else they go moldy or bad.
Now after turning a kilo of strawberries into chunky strawberry jam, I needed to do something with the rest. Thanks to a friend, she gave me her recipe for Biskuitboden, which needed a significantly lower amount of eggs from the recipe I found (two eggs versus six eggs!)
Her recipe is:
100 g butter or margarine, 100g sugar, 5g vanilla sugar, 2 eggs, 150 g flour, 1 tsp baking powder
Thoroughly grease tart pan with butter, and pre-heat oven to 180°C. Mix softened butter/margarine with sugar until creamy,add vanilla sugar then eggs, then flour. Bake 20 minutes, or until golden brown.
I was quite pleased with the results of the cake base, and I would like to experiment by adding a dash of lemon juice to add a bit of flavor.
And I still had a bowl of strawberries left over after that! I turned half of it into yogurt strawberry shake with muscovado sugrar and packed the rest for me and my kid's lunch.