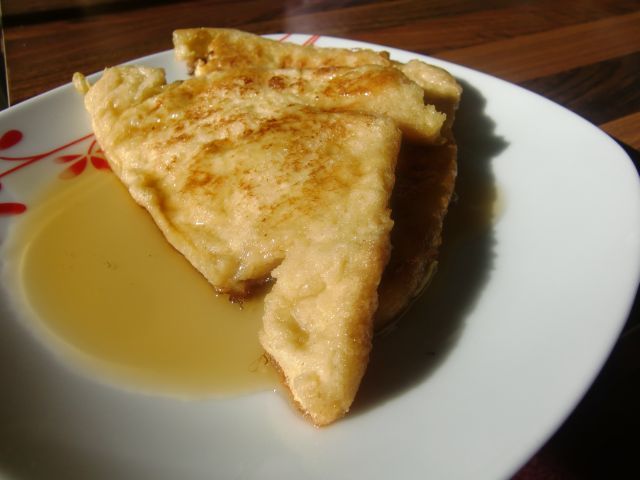 These are a beloved childhood favorite. These are special treats made by my dear departed grandma when we had pan de sal left over from the day before. Her recipe was to dip the halved rolls in a mixture that consisted of  two eggs, a tablespoon of sugar, and a bit of evaporated milk whisked together, then fried in oil.
I still make french toast when I have too many pieces of toast left over to prevent them from going bad, which was the case last weekend. So in lieu of pancake Saturday, we had french toast 🙂 I've tried many recipes, but I've stuck with Nigella's because 1) I am pretty traditionalist with my french toast;  and 2) the ingredients are all things I have lying around the house, and I don't have to do extra shopping to whip up a batch.
The only thing I would change about Nigella's recipe is her technique: I do not soak my french toast for five minutes at each side, since it soaks up too much egg and the bread slices break up when you put them in a pan.
They tasted as good as they looked. When was the last time you made french toast?