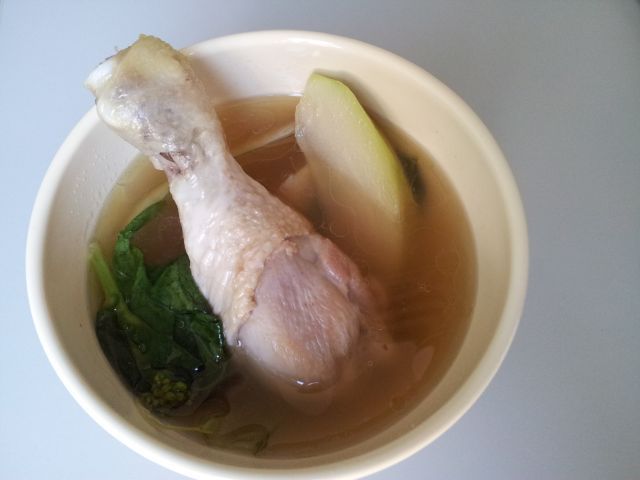 It's been a humid,  wet summer, warm rain, just like in the Philippines.
Since the weather wants to play Filipino, I indulged in my favorite rainy weather comfort food: Filipino chicken soup, aka Tinola!
There are as many versions of Tinola as there are Filipinos on this planet, so don't bother looking for the "one true Tinola." However, what we can agree on about Tinola is that it always consists of chicken parts, water, ginger, and fish sauce. I based the technique on Burnt Lumpia's Tinola, but basically this is my recipe for Tinola. The great thing about it is that you can use whatever green veggie you have handy, so if you have spinach, go for it!
For my version of Tinola, I use:
500 g of assorted chicken parts, 4 Tbsp. crushed or finely diced ginger, 1 clove of garlic, crushed, 1 small green papaya or chayote (known in Tagalog as sayote, available in Asian food stores), peeled and sliced lengthwise. You can use these assortment of greens: 1 cup of chili leaves, or a bunch of tatsoi, or malunggay (moringa oleifera) leaves. Two cups of water, salt, pepper, and a very liberal application of fish sauce depending on your taste is needed.
In a deep pot, heat about five tablespoons of cooking oil, and sauté the ginger and garlic until fragrant, then add the chicken to lightly sear them all around. Salt the chicken while sautéing. Add a splash of water and quickly cover the pot. When the pot stops steaming, add a cup of water bit by bit, and let the pot simmer for 20 minutes. Add the next cup of water bit by bit, then put in the papaya or chayote, and simmer for another 10 minutes. Add some pepper and fish sauce, according to your liking, and then add your greens. Serve when the greens have just wilted.
This is traditionally eaten as a viand with a fresh plate of steamed rice and a small dish of fish sauce to season. Enjoy!