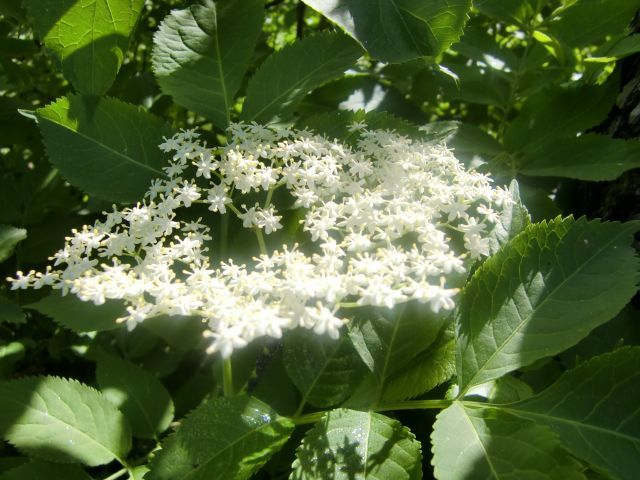 As I mentioned in an earlier post, I wasn't able to make elderberry products until June because of the prolonged winter this year. I was eager to make elderberry jelly last year, but alas, the flowering season was over by the time I got my hands on a recipe. I tweaked with the recipe this year, and although my jelly is more watery to the satisfaction of some, I prefer my jelly to have less structure for easier spreadability.
My first attempt did not turn out so well, and ended up having to make it twice this year. oh well, practice makes perfect!
Ingredients: 1.5 liters water, mixed with the juice of two lemons, a packet of jam sugar, 3:1 proportions (can only be found in Germany), and 30 flower heads of elderberry, and 100 ml of organic apple juice.
Snip the flowers off the stems, and cut away the parts with insects. In a large pot, pour in the water at room temperature and add the juice of two lemons. Very important! The water should not fill more than half the pot!
Place the flowers in the pot and let it steep for one to two days. Remove the flowers, and add apple juice to the mix. Add the jelly sugar and mix until it boils. This is critical since the sugar mixture may overflow in case the heat is too high! Once it has started to boil, turn off the heat (electric, lower the heat if gas) and mix for four minutes. Take off the heat and fill the jelly into warm sterilized jars with pop-up lids. Turn them upside down and wait for it to cool!
I'll try to replace half a liter of water with apple juice next year, but I'm not sure if that is the solution for a more solid jelly, since the sweeter the mix, the less stable the jelly is. If anyone has time to make another batch before the season is over, let me know!