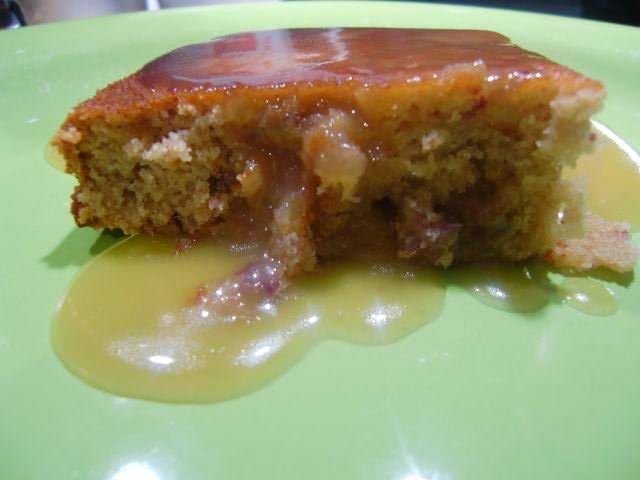 There really is nothing like having dinner with great company and good food to lift somebody's spirits. I was feeling really crappy last weekend, but I pulled myself together to spend time gossiping and cooking with friends. We had a wonderful fatty but low-carb dinner, without really thinking about the menu, and it was all topped off with a wonderful dessert!
My friend Caroline told me that sticky toffee pudding is pretty much as traditionally English as you can get. I only have terrible memories of my grand-uncle's pudding made out of day-old bread, and toffee I only know as a sweet, and from my son's favorite Thomas the Train book, Sticky Toffee Thomas. As Caroline emphasized, the horrible reputation of British cuisine is undeserved, and with cooks like Nigella Lawson, Jamie Oliver, and Gordon Ramsey, I definitely agree, if the pudding is anything to go by. It was a pleasant surprise, as the dates really complemented the caramel flavor of the toffee.
Here's the recipe, the only thing that changed was that Caroline used whipping cream since she wasn't able to get double cream from the supermarket. The uncanny thing was that the sauce tasted exactly like Latik sauce from Suman sa Lihiya, but it had a completely different set of ingredients! Latik sauce is made from coconut milk and muscovado sugar, while toffee sauce has butter, cream, and muscovado sugar. Well, it is basically creamy fat mixed with sugar, so I shouldn't be surprised. I have to try this recipe out one day, it is really sinfully delicious! Thanks Caroline!