I treated myself last Sunday to the Internationale Kochaustellung, a trade fair for people in the hotel and restaurant business. I got myself tickets to eat the meal prepared by the Thai Young Chefs for the Young Chef competition.
Next time, I'll just get myself a day pass and not even bother with the competition entries. I get this whole food as art thing, but it kinda rubs against my philosophy of food being a means of bringing people together, for bringing pleasure, for nutrition.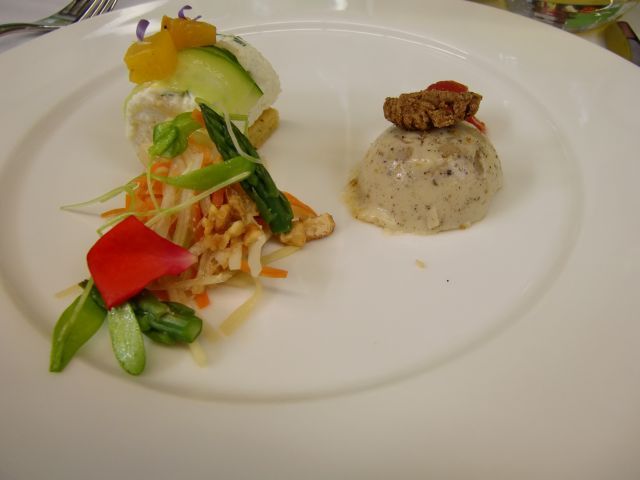 The appetizer was a sour pickled salad, cream cheese with tiny bits of mango on an anise biscuit wrapped in cucumber, and gelled mushroom. Except from the mushroom, ít was edible, but not satisfying. And I was hungry! My neighbors had the Italian and Austrian menu. From what I gather, it was disappointing. I had a bit of the Austrian pumpkin gelee. It looked great, but it tasted bland. Italy had a stenciled spinach chip, which tasted a lot like a potato chip without the salt. It sure looked pretty though.
The chefs were clearly more interested in technique rather than food.  My 25 euros were better spent elsewhere, and I could've eaten well, too, given that there was so much free food and so many freebies on offer, I wouldn't have gone hungry.
I'm not much of a gadget freak either, so while it was interesting to look at the equipment on display and imagine what I could do if I had a roaster that could cook 16 whole chicken at a time, I pretty much looked for the stands serving food and lined up.
My burning question of the day was: Where were the Filipino Chefs? In Manila, everybody is now  Chef this and Chef that, but we had no entry to this competiton! Thailand had the full backing of the Thai government, Malaysia was there, too. Why are we not represented?