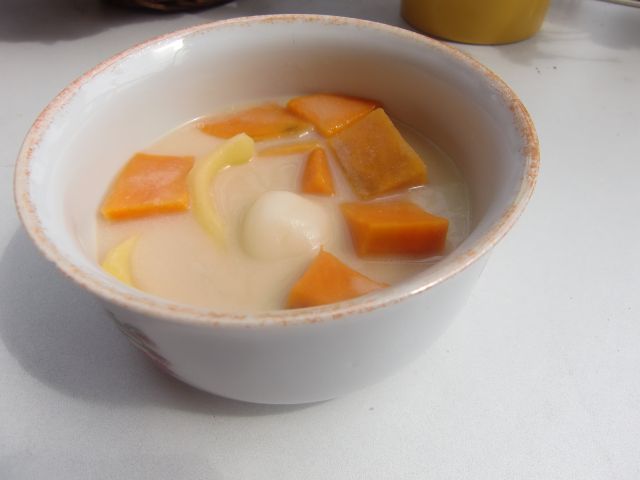 With the return of the cold, comes the desire to eat comfort food. I chanced upon some gabi root (taro) in the Asian food store, and sweet potatoes were on sale at the local supermarket, so why not make guinataan na bilo-bilo?
Guinataan, which I have explained in the past, is an adjective that means something made with coconut milk, is one of those Filipino things that Anthony Bourdain would say "it makes no goddamned sense," but it works. Normally eaten during the rainy season, Guniataan na Bilo-Bilo (bilog means circle in Tagalog) gets its name from the chewy balls made from ground sticky rice. We put all sorts of root crops in it like taro, sweet potato, and ube or purple yam. Not many foreigners get guinataan, but I think it's one of those things that you have to grow up with to appreciate.
All of the ingredients can be found in your friendly neigborhood Asian market. I am not satisfied with the results I get from rice flour, maybe I'll go old school next time and soak a handful of sticky rice overnight then puree it with a blender in my next try.
The first thing you should do is boil two cups of water in a saucepan. Add 1/2 cup of starch balls (the  "pearls" from  "Bubble Tea") when the water is in a rolling boil, and turn down the heat into a simmer.
I peeled and cubed the 2 taro and 2 sweet potatoes to about 2 inches square, and mixed 100 g of rice flour with 150 ml of milk. I erred on the side of caution and stopped adding milk as soon as there were no more dry flour in the dough. Roll them into cherry-sized or smaller balls. This should be enough to make 12.
Boil a liter of coconut milk into a pot, uncovered. Add 250 g of sugar. Add the sweet potato and taro. When they're tender enough that a fork pierces through them, add the rice balls one by one, mixing the pot after each addition so they don't clump together. Open a 365g can of jackfruit in syrup, shred the jackfruit lengthwise. Dump the jackfruit and syrup into the pot. Add the starch balls with the water, and add either more sugar or coconum milk, if so desired. Let it simmer for 15 minutes more, and there you have it!
I had the entire pot all to myself. Which was all good, it took two days to demolish it.