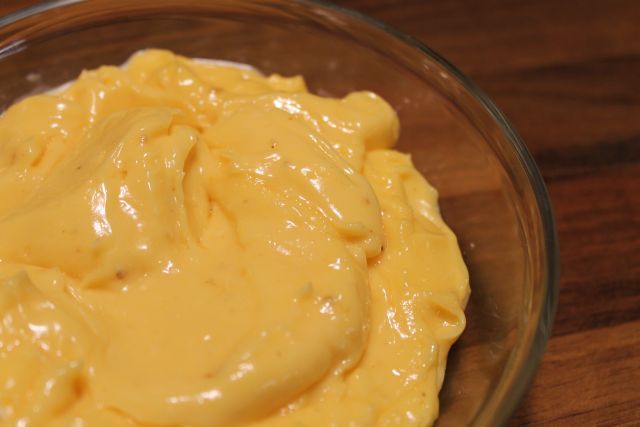 I have tried many sauce hollandaise recipes, but Julia Child's is the only one that gets me the same results and the same consistency every single time. I tell you, go grab her cookbook. The damned thing is foolproof, I tell you.
You would need:
A 225 or 250 g block of butter, the yolks of 3 eggs, salt and white pepper (preferably freshly ground), 1 Tbsp. cold water, 1 Tbsp. lemon juice. A wire whisk. If you are doing this for the first time, I recommend a tub (palanggana) of cold water big enough for your saucepan to fit into be on standby.
Slice the butter into 1/4-3/4, or into 50 g/200 g halves. Set aside the 50 g butter, and cut the 200 g butter into smaller squares. Melt them over low heat either in a cup in the microwave or in a saucepan. Set this aside. Separate the eggs. You can freeze the whites for later use.
In the inner saucepan of a bain marie or a small saucepan, beat the egg yolks until they become thick and sticky. Add the water, lemon juice, and salt, then beat about 30 seconds more.
Cut a square from the 1/4 part of the cold butter, about a tablespoon of butter. Place it in the yolk mixture. Place the saucepan over very low heat (in bain marie: over barely simmering water, 75°-80° C). whisk the egg yolks until it turns into a cream. At the slightest sign that the yolks are starting to curdle, immerse the bottom of the pan in the tub of cold water, mixing the whole time, and re-place over heat once the pan is cold enough. If the mixture is thick enough that you can see the bottom of the pan between whisks, and sticks to the wires of the whisk, then remove from the heat and place another tablespoon of the cold butter in the yolk mix to halt the cooking process.
Using a spoon, ladle the melted butter into the sauce with your left hand, slowly letting it trickle into the mixture.(DO NOT dump it in by the tablespoon! You need to coax the yolks to absorb the oil!) Simultaneously whisk the sauce with your right hand. When the sauce thickens into a heavy cream, you can pour in the butter a bit more rapidly. Do not add the buttermilk at the bottom. Season with salt and pepper to your taste. I like adding cayenne pepper in my sauce to give it an extra kick, and use the buttermilk the next day in my pancake batter.
The sauce is so thick it seems like mayo. This can only serve 3 people, so you can extend it with stiff-beaten egg whites, the water from the boiled asparagus, and garnished with tarragon or chervil.