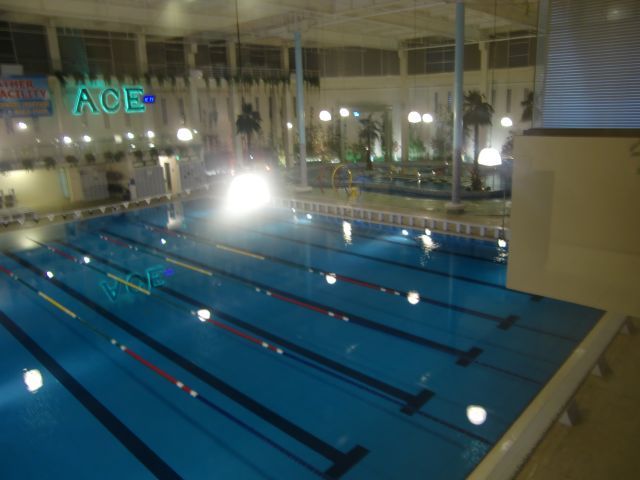 One of my favorite things to do in Germany is to go to the local swimming hall (Spaßbad) with my son, and spend the day swimming indoors, in warm water, especially when it's cold out.
I was very happy to find out that this is also possible in the Philippines, with the opening of ACE Water Spa. It costs about 550 Php, or about 10 euros entrance. It is basically the same price in Germany, with the same facilities. They also provide a swim cap, probably to protect the filter system of the water, which you have to give back at the end of your 4-hour stay.
They also have a sauna, which many people unfortunately don't know how to use. Scented pools, massage whirlpools, and a swimming pool. I was very impressed by the facilities. Unfortunately, no photos allowed inside, so all I have is a blurry picture of the spa from the viewing window.
They also have a restaurant and hotel, but it looks pricey, from what I gather from their website.
So if you are stuck in Manila during the rainy season, ACE Water Spa seems to be a good place to take your kids. Although at this moment, Manileños are enjoying (?) the summer heat. What I would not give for a glass of halo-halo!
United St. cor. Brixton St. near Pioneer, Pasig City
and 399 Del Monte Avenue (near cor. Banaue St.) SFDM, Quezon City
Open from 6 AM to 10 PM (weekdays) or 11 PM (weekends)
Entrance 550 Php Adults, 250 Php for children under 4 ft.