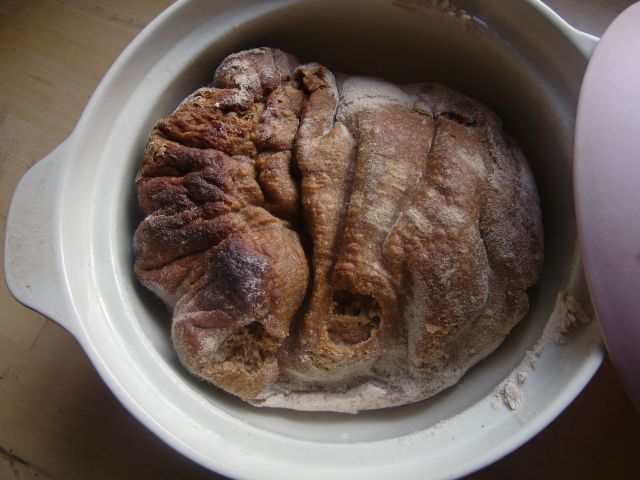 Encouraged from the comments on my bread post, I decided to try Cliff's link  to a recipe for home-made bread.
Not bad! Zee Germans were of course, skeptical of me baking bread. In a German's eyes, nothing beats sour dough bread, and I understand their logic. Why bake bread from scratch when you can go to the baker next door and buy bread for one euro?
I followed the recipe from the Sullivan Street website, and used whole wheat flour. Sullivan Street is a very famous New York bakery, and have baking cookbooks on the market. I made one mistake in the baking process, which ruined my son's old muslin burp cloth: I baked the bread in the cloth. I was afraid that the bread would stick to the ceramic pot I baked it in, not heeding Cliff's comment that the moisture just evaporated, and the bread did not stick to the pot.  The bread turned out good though! Crusty on the outside, spongy on the inside. I can't believe ít's not sourdough! Aside from proofing it for 12 hours, it is so easy to make! Genial, as they say in German. Thanks Cliff for the recipe, it will go very well with my second tub of Mont d' Or!
29 March 2013 Update: Bread is really good, I'll be baking bread a lot more often! Now hopefully I could also get my hands on a good pan de sal recipe…