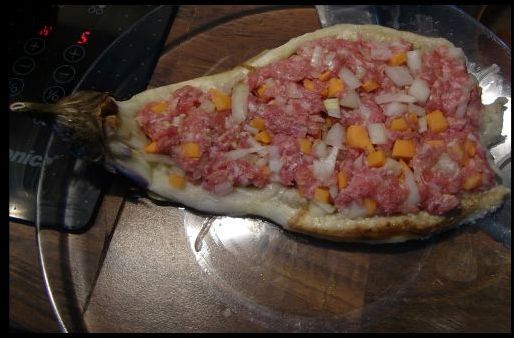 Tortang Talong (eggplant or aubergine) with Banana Ketchup and freshly steamed rice is definitely my favorite Filipino dish. Heck, anything with eggplant is pretty rad in my book. Based on the Spanish Torta, which is a kind of omelette, Tortang Talong is a meat omelette with aubergine as a base.
Whenever I could get my hands on Chinese aubergines, which are thin and long, compared to the rotund European variety, I always make Torta. Torta is 250 g ground pork, mixed and mashed together with 1 finely diced carrot, half of a finely chopped onion, a clove of garlic, salt and pepper, and an egg as binder. This should do for 2-3 eggplants. I like burning off the skin from the eggplant, giving it a smoky flavor. Peel off the burned skin, press it flat with a fork, and add the meat filling on top. Adding some roasted sesame oil adds a great flavor dimension.
My dilemma is that the meat never cooks fast enough! I'll end up with burnt eggplant flesh and egg before the meat even starts to change color. I've seen our cooks splash the hot oil over the eggplant, but this technique just turns the omelette oily. I've tried turning the eggplant over meat side, but it always falls apart.
Should I try cooking it next time meat side down?