Unlike my last few visits to Berlin, which could be described as pit stops rather than visits, I finally had more time to explore Berlin and visit places that I've been meaning to do for some time now. and That Queer Expatriate's Adam was a very gracious host and toured me around the best eats in his 'hood or Kiez.
One of the first things I did upon landing in Berlin was make a beeline for Pan, the only Filipino restaurant in Berlin. I ordered Sinigang, a traditional Philippine sour soup/stew that is eaten with rice. It can be filled with pork, fish, and shrimps. Although souring agents for sinigang nowadays comes from a packet, it is traditionally soured with unripe tomatoes, kamias, sampaloc (tamarind), or other sour fruits.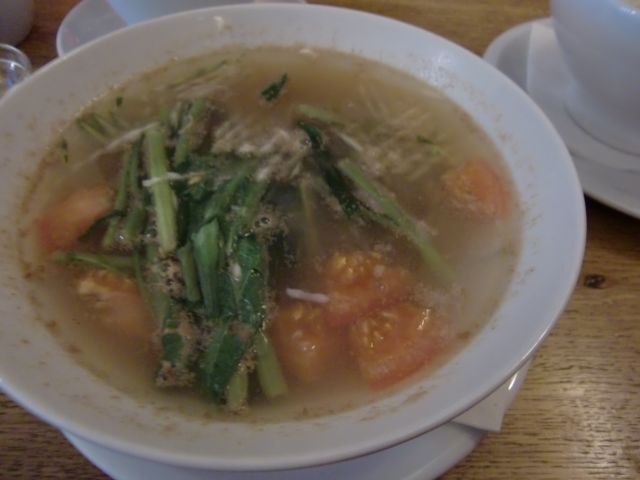 Ok, it was not exactly his turf, but Berlin was freezing, and I needed comfort food. Does it hit the spot? I dont' know what to make of it. It smelled Pinoy, it looked Pinoy, but there was   something different about the texture of the veggies. It wasn't cooked to death!
Saturday was jam-packed with activities. Adam and I woke up early to get to the Schöneberg Winterfeld Market. It was freezing cold in Berlin, I thought I was gonna freeze my toes off, despite my winter shoes. It didn't stop us from eating this wonderful, luxuriously covered Tiramisu from an Italian street vendor.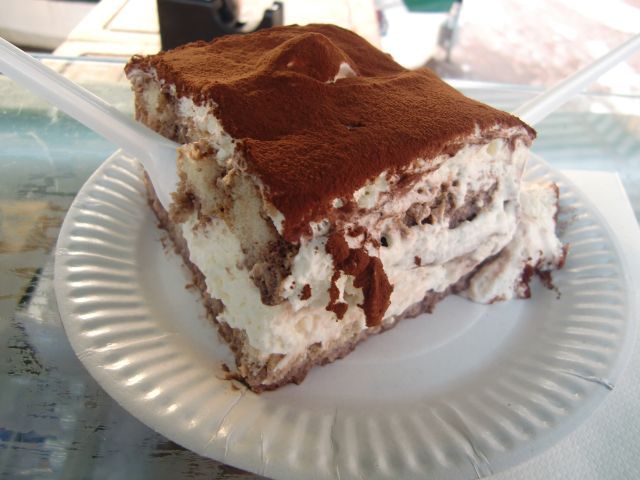 I would've lingered over this tiramisu if it weren't so damned cold out. It wasn't cloyingly sweet, and the mild cherry amaretto wasn't alcoholy-tasting at all! It really tasted like cherry.
I was looking for earrings, so Adam bought me food-themed ones (thanks Adam!) and then he went over to a stall to buy freshly-made spaghetti and other produce straight from Italy.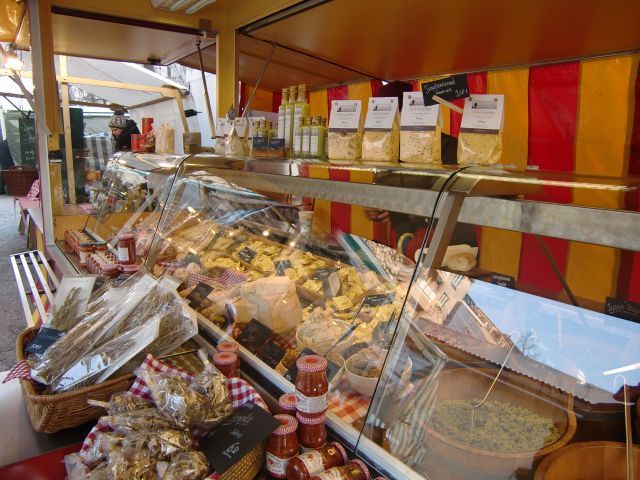 I would've bought a load of food from the stall if I hadn't just come from Italy. Oh well, maybe next summer.
After a quick brunch at a Cafe, where Adam played around with his fancy new camera toy, I left to attend a conference. I already had planned to eat Ethiopian that evening, but the weather and Adam's ketchup-stained shirt had other plans for us.
A trip to Berlin for me would never be complete without a stop at my favorite Asian supermarket in Berlin, which we did Saturday evening. Because Adam's pants were too thin for the cold weather, we decided to eat at Chay Village, a vegetarian Vietnamese restaurant in his Kiez.
Now, I'm skeptical of vegetarian Vietnamese dishes. Vietnamese food has a lot of vegetarian dishes, but I was in the mood for soup in a very cold winter day. I couldn't imagine eating Pho without beef broth. I was pleasantly surprised by this restaurant. I was first baffled by the sauce they served us with the dimsum. I thought it looked like apple cider vinegar, but it wasn't sour enough to be that. I thought it could be fish sauce, but it wasn't salty enough to be that, either. It turned out to be home-made soy sauce!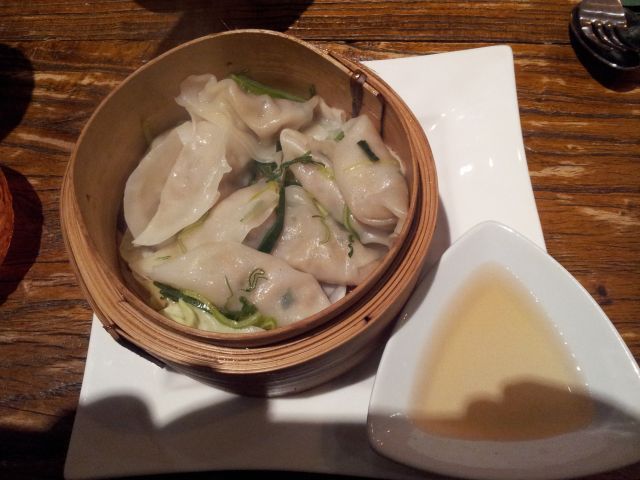 And the Pho had fried Tofu, mushrooms, and scrambled egg strips in it. It tasted just like normal Pho. Yum!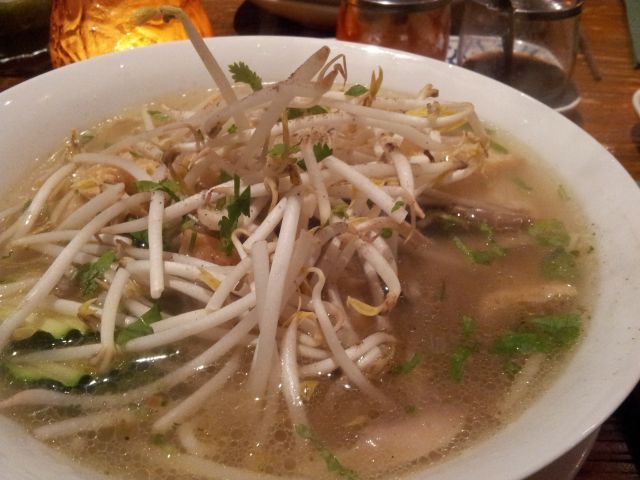 After that we just stayed home and watched Magic Mike. Thoroughly enjoyable film.
I gorged myself full on Dunkin' Donuts while waiting for the bus that would take me home.
I would like to thank Adam for so graciously hosting me!