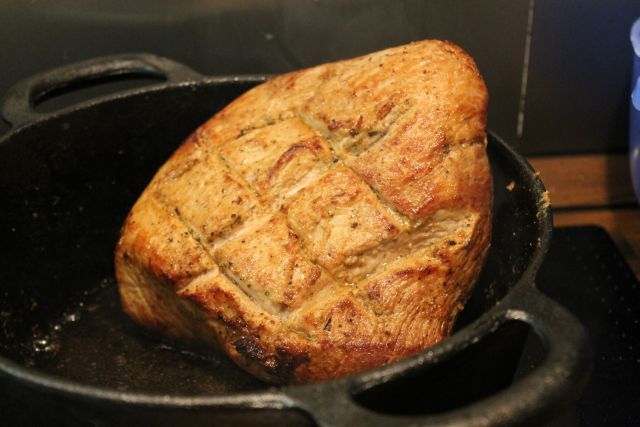 Schweinebraten or German pot roast is a staple of German cuisine. It is usually made with the neck/shoulder part of a pig, or the hip part of a cow (Keule) or sometimes the upper part of the cow's belly (called Lende or Filet). I've never made roast beef(Rinderbraten in German)  before, but I've made pork Braten often enough. It is usually eaten on Sunday in Thuringia, paired with boiled salted potatoes or potato dumplings (called Klöße in German). Common sidings are salted boiled Cauliflower or stewed red cabbage.
If the skin and the underlying fat is included in the cut, it is made into something called Krustenbraten, where the skin is made into a crispy crust (well, kind of. I still haven't perfected it!)
This is the first dish my mother-in-law made for me in Germany, and I've watched her over the years make this. This has become one of my favorite dishes.
The secret to good Braten is good Fleisch. This will be cooking for two hours, meaning the pork has to be well marbled with fat, so you don't end up with dry meat. Avoid pork pumped up with water, unless you want to injure yourself with the oil splatter (I know what I'm talking about!). The pork needs to be at room temperature, preferably fresh from the butcher. You need one or one and a half kilos of meat. That's enough to feed four to six people!
Another thing that you need for Braten is Süppengrün. The great thing about living in Germany is that you can buy a pre-bundled pack of soup greens, or veggies for making stock.
A packet of soup greens consists of a slice of celery root, a short leek stalk, three carrots, a sprig of parsley, and sometimes a parsnip. You will need everything in this pack except for the parsley and the parsnip.
Aside from that, you need two tablespoons of mustard–preferably dijon–and at least one and a half tablespoons of salt and pepper (cracked pepper if you have it), five cloves of garlic and a large onion. The recipe I use is based on Luxemburg/German celebrity chef Lea Linster's Schweinebraten, but done the way my mother-in-law does it.
First, you chop three carrots and one leek stalk in half centimeter rings, and roughly dice the onion and celery root, and peel and halve the garlic cloves.
Take the pork, and score criss-crosses the top or if you're making Krustenbraten, the skin.  Rub and massage the salt and pepper into every nook and cranny of that pork, then rub that meat with mustard, If using herbs, rosemary is a wonderful addition. Then rub it again with more salt and pepper. You are not oversalting this, since only the outer part will get the seasoning.
Heat about four to five tablespoons of oil in a deep and heavy-bottomed pot. Place the meat in the pot and brown at all sides (see picture above). This takes about fifteen minutes, or 3-4 minutes each side.
Meanwhile, in a separate pan, heat three tablespoons of (preferably olive) oil and sauté the carrots, celery, onions, and garlic until it becomes glassy. Season with salt and pepper upon adding each vegetable. I use an electric stove, so I turn off the heat and add the leeks last, since they burn way too easily.
When the pork is brown and ready, take it out of the pot and onto a plate. Here comes the dangerous part. Lower the heat to the lowest possible flame. Fill a cup until half full of water, splash it into the pot and cover it immediately. This is to release the brown residue at the bottom of the pot from the salt and mustard. This will form the base of your sauce.
When the pot stops steaming like crazy, return the meat into the pot, and add the veggies on top of it. This needs to be in there at least two hours. Despite what other websites say regarding 50 minutes=1 kg meat, two hours always gave me falling off the fork results. Turn the meat at the halfway point. Then take it out of the pot after two hours.
If you are making Krustenbraten, grill the pork, skin side up, 180°C in a pre-heated oven. I brush the top with butter, but some recipes call for just saltwater, or even beer, to make the top crispy. Maybe there's something to that, and will try that next time I make Krustenbraten.
While the meat is in the oven, mash the veggies with a potato masher or puree it with a handmixer in the pot. This will become your sauce. This veggie sauce is so thick I sometimes add a cup of water slowly into the sauce until it reaches a creamy consistency. Slice the meat into porkchop slices, and serve with the potatoes and sidings.
This Schweinebraten recipe is definitely a work in progress, so the way I make it now may differ how I will make it in the future. Meanwhile, enjoy your Braten!