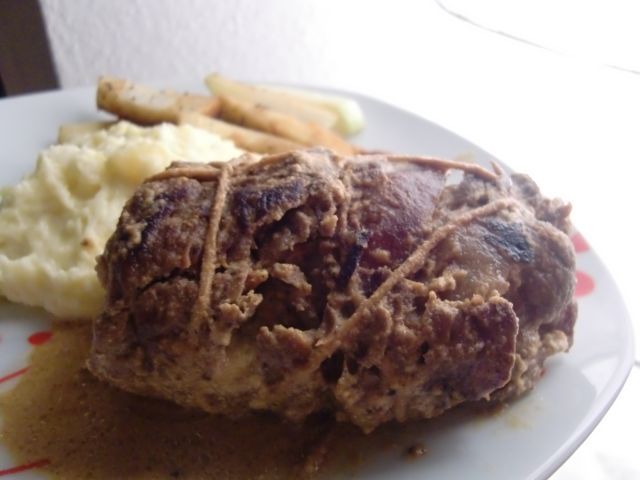 We had Rinderroulade, Mashed potatoes, and fried breaded parsnips for Christmas dinner. Parsnips are a revelation! Who knew they tasted so good?
Rinderroulade is rolled beef pot roast, and is a classic German dish. Roulade is made from very thin beef filet, from the cow's hip. It is not marbled, with very little fat, so it is always made with bacon. It is traditionally filled with pickle slices and minced onions.
You would need: Roulade filets, a packet of bacon (American bacon or German speck), one medium-sized onion, one pickle (if using), mustard, roulade needles or kitchen string. Clarified butter or vegetable oil, a cup (240 ml) sour cream, salt and pepper, a splash or red wine (optional), 3-4 pimiento corns  and 2 bay leaves.
I normally buy a pack of roulade, which normally contains three slices. I pound them until tender, and sprinkle salt and pepper on the surface, then spread mustard over it. Place two slices of bacon over the beef. In Germany, most people buy Speck, thick slabs of bacon. They then chop it into half inch bacon bits and spread it over the beef. I minced one medium sliced onion. I didn't put pickles in mine, btw. If using, chop one pickle into three or four slices lengthwise.
After you've laid everything out, roll the beef, pickle slice, bacon and onion, and tie it up in a neat bundle or secure it with rouladen pins, which are available in Germany. I prefer using kitchen string.
In a shallow pot, fry the rolls in hot clarified butter or vegetable oil in medium high heat until it is dark brown all around. this takes about 10-15 minutes. Remove from pot onto a plate. if you notice, a brown stain has developed at the bottom of your pot. Pour the cup of sour cream into the pot, and mix with a wire whisk to remove clumps. Add the bay leaf and pimiento corns, and re-place the rolls into the pot. Turn the heat to very low and cook for 1.5 hours. Turn the rolls at the halfway mark (45 minutes).
This is normally eaten with potatoes or potato dumplings, and the sour cream gravy means that the sauce isn't all that heavy on the stomach.
On that note, I'll be blogging light, since I'll be on vacation until Jan. 8. See you then!