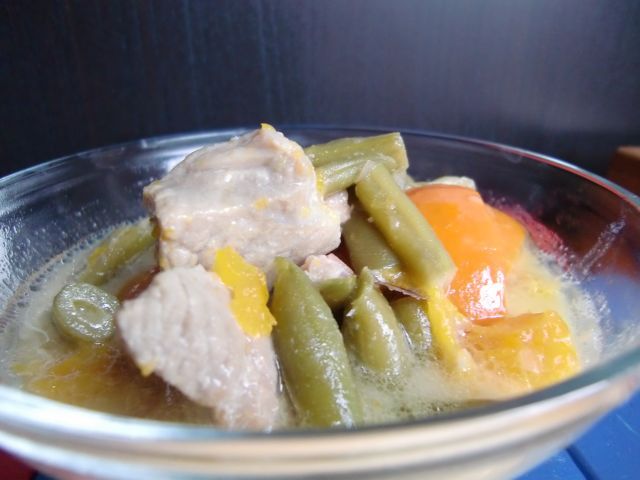 Guinataang Kalabasa is undoubtedly my favorite squash/pumpkin dish. Ever since I discovered or read that you can actually eat Hokkaido pumpkins without peeling, I have always made this with Hokkaido pumpkins, since it saves me the hassle of peeling them.
Guinataan is an adjective from the word "gata," the Philippine word for anything milky (gatas is the Tagalog word for milk from any animal/mammal/human), so we have a lot of dishes that start with the word "guinataan." Kalabasa is Spanish for squash.
I use fish sauce to season my guinataang kalabasa, but if you don't like the flavor, plain salt is fine, too.
You'd need
2 small pumpkins, or 1 medium sized Hokkaido pumpkin, or 2 segments of peeled squash, cubed.
One medium-sized chopped onion, chopped
2 cloves of garlic, crushed or finely chopped.
A can of coconut milk (240 ml)
A handful of fresh or frozen string beans, cut about 2 1/2 inches long.
About 125g of cubed pork or bacon bits (known in Italy as "pancetta," which is also available in Germany)
If you like it hot, one long, green pepperoni. Split it in the middle if you like it extra hot. I omit this altogether because I am not a fan of spicy food.
In a heavy-bottomed casserole, sauté the onions and garlic over medium-high until they turn glassy, then add the meat. season with fish sauce or salt after the meat is no longer pink. Then add the peeled, cubed squash or the pumpkin.
Add the coconut milk, and simmer uncovered for about 10 minutes. Add the string beans and add about 1/4 cup of water if the coconut milk reduces. Cook for about 5 more minutes, until the string beans are done. Frozen string beans need less time to cook.
Adjust the seasonings. Add the chili last. Turn off the heat and cover if not serving immediately.
I thoroughly enjoy eating Guinataang Kalabasa every time I have it. The ingredients are so readily available in Germany that I don't need to go to an Asian market to make it!