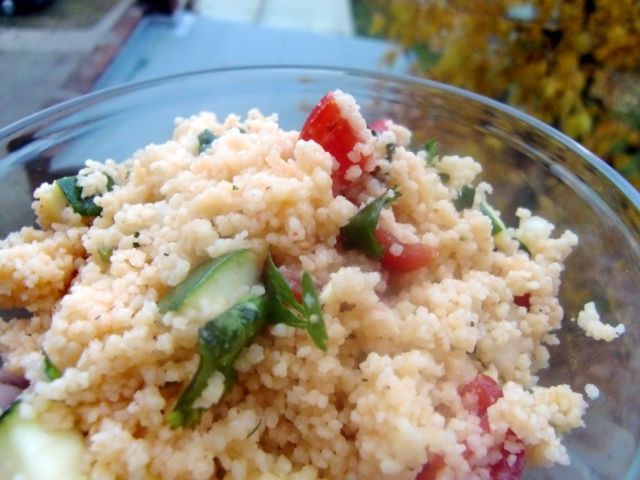 Taboule salad is a great dish to bring to potluck parties. It can be served cold, it can be given to vegans. It is not gluten-free however, so be warned!
According to Wikipedia, Taboule is a Lebanese salad that is pretty popular in the Middle East, Armenia, and Haiti. This is a very popular Arabian dish, quick and easy to make, done in 30 minutes. There are hundreds of recipes for Taboule on the internet, and they are variations of the same ingredients.
When I make Taboule I use:
250 g Couscous, soaked in 200 ml salted water and 1 tablespoon extra vigin olive oil
5 chopped big tomatoes or 8 halved cherry tomatoes
Half a cucumber or zucchino, unpeeled.
1 and 1/2 tablespoon each of parsley, mint and coriander. Leave out the coriander to be sprinkled extra on the salad, since many people don't like it. This baffles me because I love coriander. Mint is also optional, since I only have fresh mint leaves in the summer.
Juice of 1/2 of a lemon
1 shallot or small onion, finely chopped
1 stalk spring onion, finely chopped.
Approx. 6 Tablespoons Extra Virgin Olive Oil
Salt and pepper
In a salad bowl, season the couscous and pour the salted water in with the 1 tablespoon of    oil. Let it stand to absorb the water.
In the meantime, cube the tomatoes and the cucumber, and finely chop the onions and herbs. When you're done, the couscous should have absorbed the water. Add in the herbs, tossing the couscous and adding seasonings after putting each ingredient in the bowl. Add the rest of the olive oil and the lemon juice, and continue mixing until it is well incorporated.
This is enough couscous to serve 8 people. If this is a side dish, 12. You can jazz it up by adding cubed feta cheese or olives. Enjoy!