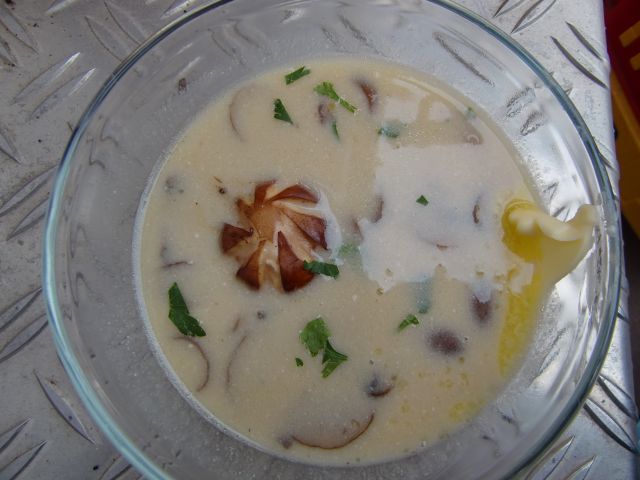 While it could be described as wasteful, I would have to say that this recipe puts the cream in cream of mushroom soup. As Julia Child recipes go, this requires copious amounts of butter. Yum.
You would need:
3/4 to 1 pound mushrooms (300 to 400 g). I used Champignons.
A 2 1/2 quart saucepan, and 2 smaller saucepans. Heavy-bottomed.
1/4 cup minced onions
5 Tablespoons of butter
3 Tablespoons of flour.
6 cups of boiling white stock/broth. the book says chicken, I used pork and broccoli.
2 Tablespoons parsley, and their sprigs
1/3 bay leaf
1/8 tsp thyme
1 tsp lemon juice
1/4 tsp salt, a bit more to season, and pepper.
2 egg yolks and whipping cream (Schlagsahne) For lack of it, I discovered that plain yoghurt was a good alternative.
Julia also talks about fluted mushroom caps. It is basically a way to decorate the mushrooms, jazz them up a bit.  I'll talk about them later.
First off, you have to clean the mushroom with a paper towel to rid it of the dirt. Then separate the stems from the caps. After that, save 5 to six of the best looking caps, chopping the rest of the caps into thin slices. 
Cook the onions in the big pot in 3 Tablespons of butter over slow heat, up to 8 minutes. The onions should be tender, but not brown. Add the flour and stir over moderate heat without browning. Take it off the heat.
Your stock should be boiling in another pot. Off heat, beat the broth into the onion with a wire whisk and blend thoroughly, bit by bit. Season with salt and pepper. Stir in the mushroom stems, parsley sprigs and herbs, and simmer partially covered for 20 minutes or more, skimming occasionally. Strain, and press the juices out of the mushroom stems. Then return the soup back into the now-empty saucepan.
In the saucepan where the stock used to be, I melted 2 Tbsp butter in medium-low heat until it bubbled. The book says foaming. Then toss in the thinly sliced mushroom caps, 1/4 tsp. of salt, and the 1 tsp lemon juice. Cover and cook for five minutes. Then add the whole thing, juices included, in the soup base and simmer for 10 minutes. If you are not using this immediately, pour a tablespoon of milk on the soup and wait until it forms a film over the surface. Re-heat to a simmer before the next step.
Beat the egg yolks and cream with salt and pepper in a mixing bowl( in my case I just re-used a saucepan for less washing-up). Beat in the hot soup by the spoonful, until a cup of soup has been added. Then gradually stir in the rest. Return to the bigger saucepan and stir over moderate heat for a minute or two, but don't let the soup come to a simmer.
As for decorations, remember the saved mushroom caps? Basically all you need to do
is to press the mushroom between your thumb and middle finger. Take a paring knife and and cut a shallow incision diagonally, from where your thumb is. And make a parallel cut to form a wedge. 
  Like so.
When you've peeled the top off, you'll have a white triangular strip. With your index finger, turn the cap towards the groove between your thumb and index finger and start over, until you've made a mushroom "flower". Saute the caps in some butter and a spritz of lemon juice.
Before serving the soup, stir in 3 Tablespoons of butter by the tablespoon. Pour into the serving bowls, and decorate with the fluted mushroom caps and finely chopped parsley.
This was so rich and creamy, I was secretly happy that the Germans did not touch this when I brought this to a pot-luck! It was meant to serve eight people, so I ended up eating this for the next two days.