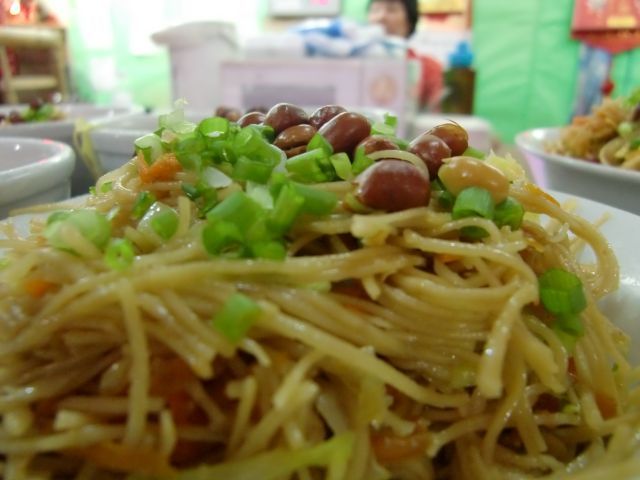 Binondo or Ongpin, aka Manila's Chinatown, is located right in the smelly armpit of Manila. Oh but what a glorious armpit it is!
My grandfather grew up in the area, and as a child we regularly took excursions to hole-in-the-wall restaurants in Binondo. Little dives where the sanitation was questionable but the food was excellent.
When I went home last February just in time for the Chinese New Year, I grabbed the chance to take a walking and eating tour of Chinatown with Ivan Man Dy of Old Manila Walks, and boy, was I not disappointed by the food!
It was a trip down memory lane for me. Ongpin has changed, but strangely, it still feels the same.
The first stop of the tour took us to the courtyard of a building, where the restaurant New Po Heng Lumpia House is located. Lumpia means roll (think spring rolls) and they don't just serve hand.-made and hand-rolled Lumpia, they also serve these amazing stir-fried noodles in peanut!
Their Lumpia, which they sell for 50 pesos a pop, is served with crushed peanut and a kind of powder, which I later learned was dried seaweed. I swear it was so good I could have demolished two of those lumpias. Alas, I needed space in my stomach for the food tour. They may be short but they aren't tiny! They are about as thick as my wrist!
Run, don't walk to this establishment. Expect to drop about 150 pesos in the restaurant. That's for noodles, Lumpia, and a drink. These days in Manila, that is a very good deal, when even an indigestible Value Meal at Jollibee costs at least 50 pesos nowadays.
New Po-Heng Lumpia House
531 Quintin Paredes St. (Across Binondo Church)