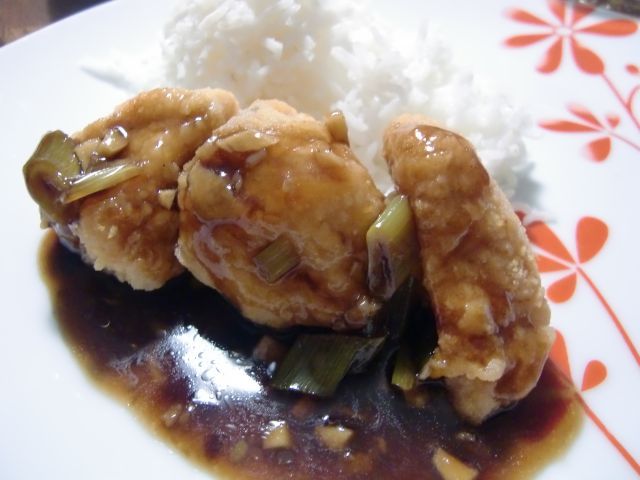 Anyone who has been to the US West Coast would have heard of Panda Express. It is a Chinese restaurant chain from California and looking at their website, I could see that they are growing fast, with locations in NYC and Mexico.
I really loved their Orange Chicken, and started craving for it when I got back to Germany. I tried to re-create it at home. I tried different recipes, found one that had potential, and adjusted it according to my tastes.
You would need:
1 kg chicken breast, chopped into bite-sized pieces.
Breading:
1 egg, salt and white pepper, 1 Tbsp. wok oil or sesame oil, and 1 proportion cornstarch to 4 of flour. That means if you are using 1 Tbsp. cornstarch, you need 4 Tbsp. of flour. If you can find tapioca starch, much better!
Sauce for stir-frying:
1 Tbsp. minced ginger, 1 tsp minced garlic, 1/2 tsp crushed chili pepper or a knifetip of sambal olek, 1/4 cup spring onions, 1 Tbsp. rice wine, 1 Tbsp cornstarch (or Tapioca starch) and 1 cup water.
Orange Sauce
3 Tbsp. light soy sauce, 2 Tbsp sugar, 3 Tbsp. water, Juice of 1 orange (abt. 5 Tbsp.), and if available, zest of an orange.
FIRST, PREPARE THE SAUCE! I cannot stress this enough.
Mix all the ingredients of the orange sauce in a cup. In a heavy-bottomed saucepan, Saute ginger and garlic in about a tablespoon of oil until fragrant (use wok oil if available). Add the chili or sambal olek and green onions. Add the rice wine, and the orange sauce. In the same cup, mix the cornstarch with the water, dilute and pour into the saucepan. Stir until the sauce has thickened. Set aside.
Now it's time to work the breading and chicken.
Place the chicken in a bowl, and season it with salt and pepper. In a separate bowl, scramble the eggs with a dash of salt and pepper too. In yet another bowl, mix the flour, cornstarch, more salt and pepper with a wire whisk to incorporate well.
Now it's time to deep-fry the chicken. Take a small, deep saucepan or soup pot. Mix normal oil with the wok or sesame oil, until you have about half a cup of oil. Please use new oil to minimize the risk of setting your house on fire. Set the stove on medium high and wait until the oil starts making diamond patterns (at least on my stove!) Dip the chicken pieces into the egg, then the flour mixture, and deep fry until golden brown. Do not overcrowd your pot! Overcrowding the pot means you will end up with soggy chickens, since this lowers the heat. Once a piece is done, set aside on a plate covered with a paper towel. You can mix the chicken with the sauce or ladle it on top of the chicken before serving to ensure crispiness!
I enjoyed this recipe so much, and I hope you will too. Homesick Californians have no excuse now to miss Orange Chicken 🙂