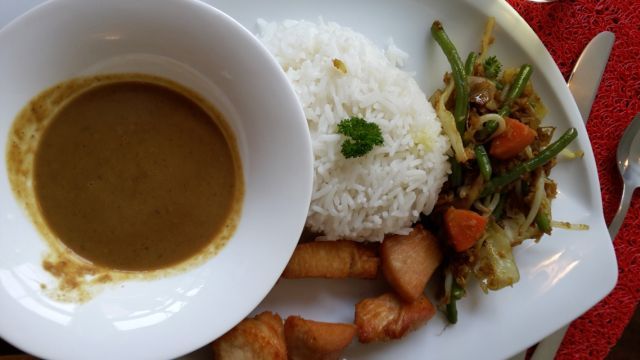 The restaurant landscape in Erfurt has welcomed a new international addition with the opening of Bali Ubud, an Indonesian, specifically Balinese restaurant that has been open for almost a year now.
I was worried that it wouldn't appeal to the locals, since Indonesian food doesn't conform to what Germans think of as "Asian" food. But it seems like Erfurters, or those who live in the city, are a more curious sort. The restaurant is well received, and is full of people around lunchtime. It's prime location, full of foot traffic, certainly has a lot to do with it.
Having eaten twice here, I could say that the dishes are authentic, while tweaking it just a little to suit European tastes. They use ingredients that Europeans are familiar with. So nothing weird like fish paste on the menu.
The dishes are very filling, and they do vegetables well. Their Chicken Satay was a bit dry, though, and their Kopi Luwak was…watered down?  I really hope not. Maybe Kopi Luwak is really just mellow. I love the interior design of the place, they really did a good job of taking Balinese elements and evoking a tropical oasis in the middle of cold Europe.
If you're in town and curious to try something new, drop by
Marktstrasse 45
99084 Erfurt