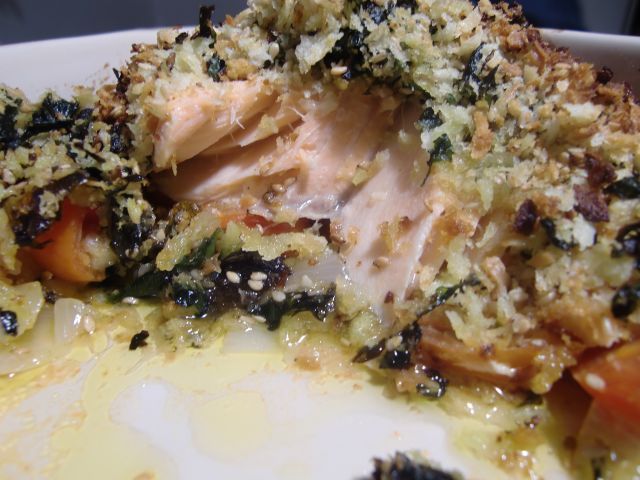 Have you ever tried the recipes from boxes and can labels? I once had a collection of those as a child,. After buying a slab of frozen salmon, I spied a recipe on the box flap that suggested a good use of the ramsons I had purchsed from the farmer's market.
I am a big fan of frozen fish a la bordelaise, so this was something  similar to that. In absence of ramsons, Chives would be a good substitute.
Pre-heat the oven to 200°C. Defrost a 200 gram slab of salmon. Wash, pat dry, then finely chop a handful of ramsons, and grate the peel of half a lemon (or about 4-5 calamansi). Halve 300 g of cherry tomatoes, and chop three shallots or one small white, sweet onion into four.
Melt two tablespoons of butter in a shallow pot, and sauté the ramsons, 30 g panko crumbs, grated lemon rind and 30 g pine nuts (roasted sesame seeds are a good substitute). 
In a small baking dish, spread the tomatoes and onions evenly on the bottom and drizzle generously with olive oil. Season the salmon with salt and pepper, place it on the veggies, then evenly spread the ramson mixture on top. Bake for 20 minutes.
So I spent 40 minutes total from start to finish. Not bad! The outcome was surprisingly good and I've committed the recipe to my print-out book.