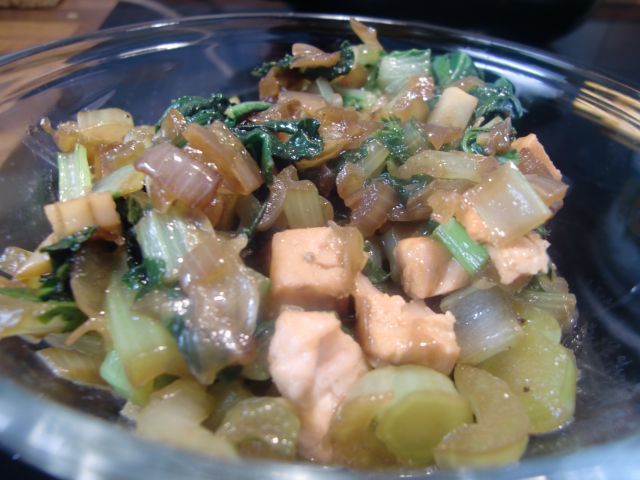 With my new tatsoi harvest coming in, I could again indulge in one of my my favorite simple dishes, Adobong Pechay (tatsoi in Tagalog).
Adobo is something that's specifically Filipino. It is a way of preserving meat dishes. The basic recipe is a marinade of garlic, soy sauce, and vinegar, though vegetable versions normally leave out the vinegar.
While this is normally made with 100 g of ground meat, it can also be made with tofu or salmon, which I did in this version.
The ingredients are: two tatsoi plants, an onion, a clove of garlic, 100 g minced meat, or cubed salmon or cubed tofu, about 10 ml soy sauce, and pepper.
Finely slice the onion garlic, then wash then slice the tatsoi in thick strips–they will shrink with cooking.The stems are edible and not tough at all, you can throw in everything. Fry the meat/tofu/salmon in a pan with a few tablespoons of oil, and fry them until it turns brown. Then saute the onion and garlic, and add the vegetables until the wilt a bit. Add the soy sauce and pepper. and you're done!
I love eating this with steamed white rice. Enjoy!