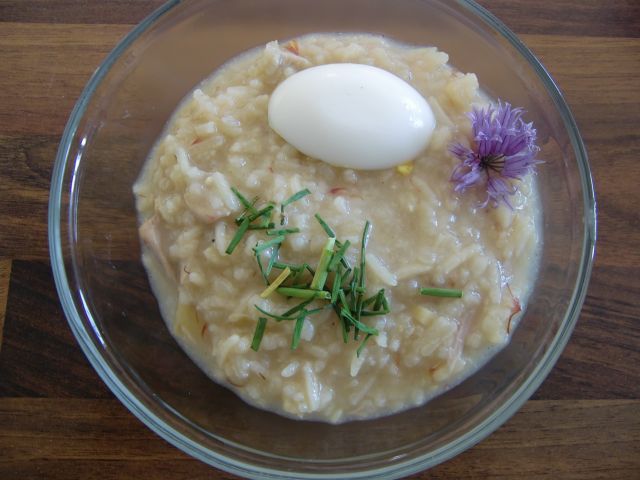 We have had a spell of cold weather lately, which kinda sucks because it was already so warm! I always want a bit of home when I get the blues, so I made Arroz Caldo. It is basically the Filipino version of Congee, that much-beloved Chinese rice porrige. It is normally served during cold days, for breakfast, or when one is having a meh day.
It is quite easy to make, the only thing that you need to look out for is the kind of rice that you are using. Filipinos normally use a mixture of normal and sticky rice, but risotto rice or German Milchreis is also an acceptable variety.
First, finely mince three cloves of garlic and dice an onion finely. Chop about an inch's length of ginger into matchsticks. In a large, deep casserole, sauté the onion and garlic in about four tablespoons of oil, then add half of the ginger and about three to four pieces of chicken in the pot and slightly brown them. When the chicken pieces are slightly brown, throw in a small amount of water (about fourth of a cup) into the pot and let the juices seep out of the chicken (this is a technique I picked up from Burnt Lumpia), about 10 minutes. Season the chicken with salt or fish sauce and soy sauce for some color and pepper, then wait another five minutes to let all the juices seep out because of the salt. Then I add enough water to fully submerge the chicken, and wait until the water comes to a boil. 
When the water starts boiling, add a cup or two of rice and the rest of the ginger and lower the heat. Cover the pot. Stir occasionally to check if the rice is done, about 30-40 minutes. Boil a little longer if it is too watery, or conversely, add more water if the porridge is too thick. Season with salt or fish sauce and pepper, and garnish with chopped chives, safflower, and a sliced hard-boiled egg. Sprinkle the porridge with a touch of calamansi (lemons and limes are acceptable substitutes) and more fish sauce, and you have the Filipino comfort food in a bowl!
And there are many different variations to this basic recipe. If you take out the chicken pieces from the stock before adding the rice, and omit the soy sauce and fish sauce, you are making lugaw, which is what we feed babies, the elderly, and the sick. Use pig or cow intestines instead of chicken, it's called tripa, because of well…tripe. The local version of Blutwurst can also be used as a garnishing.
As for me, I prefer eating one-day old re-heated Arroz Caldo.