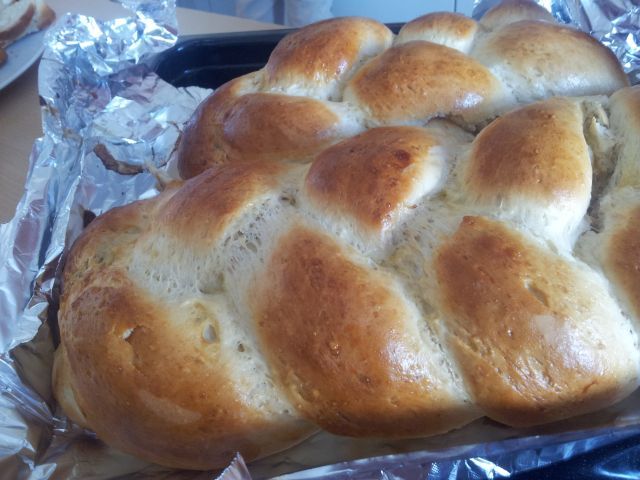 I am a person that is generally fond of religious rituals. I like the steady, practiced rythym of their execution, the prayers passed down through centuries. So I was really excited to finally participate in this year's Yiddish Summer Weimar, a yearly series of musical events to celebrate Yiddish culture and language, after work commitments kept me busy the past years.
And I was even more excited to participate in a Yiddish cooking class. Since yesterday was a Friday, the class prepared meals for Schabbos or Schabes, which is Yiddish for the Sabbath. I didn't really do much except practice my onion-cutting skills, but it was interesting to learn different cooking techniques and ways to prepare food.
We Gentiles learned that baking Challah is an essential part of the Schabbos. Challah is basically a sweet braided loaf of bread, without milk and butter. And they need to bake at least two loaves. I'm so impressed with our multilingual instructor Paulette Bielasiak,  who gave instructions in French, German, Yiddish, and English without missing a beat! This is her recipe.
Dissolve a packet (42 g) of active dry yeast in 360 ml of lukewarm water, and add into a kilogram of flour. Mix thoroughly either by hand or bread machine, and add two eggs, 100 ml oil (something neutral-tasting, like sunflower or canola), and 100 grams of sugar (can be less, this is a matter of taste). Add half a tablespoon of salt, and knead until it forms a coherent ball. Add flour if needed. Cover the bowl and let it rise in a warm spot until the dough has doubled in bulk (about 45 minutes to an hour. This process will be faster if using fresh yeast.)
After proofing the bread, divide into six equal parts, and roll them until they are about an inch thick and a foot long. Take three ropes, press them together at one end, tuck it under, and proceed to braid. Press the ends of the braid again together and tuck underneath the loaf. Let the loaves rise again for thirty minutes by leaving them in a warm (50°C) oven.
When they have risen sufficiently, take them out of the oven. Turn the heat up to 170° C. Beat an egg with a tablespoon of sugar and glaze the loaves with a brush, and bake for 25 minutes.
We also had Latkes, Choulent, Gefilte Fish, and a salad comprised of mashed hard-boiled eggs mixed with spring onions. The kilo and a half of onion that I chopped went into a side dish that involved caramelizing an onion in some oil and a knob (about a tablespoon) of butter for thirty minutes, then adding five beaten eggs into the pot. I don't know what it's called, but it was really tasty.
Yiddish food is really heavy, I guess it has to be if one can't cook for a whole day!