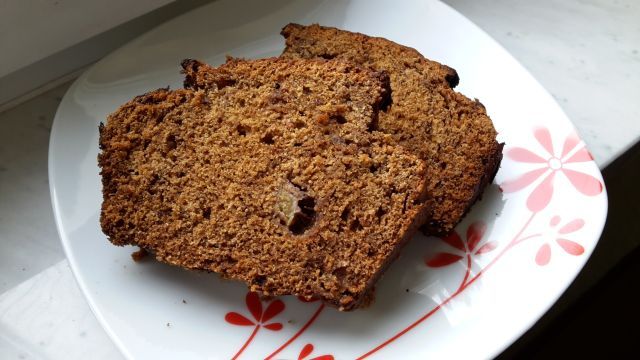 Banana bread is a staple in our household. Growing up in the Philippines, it was an excellent way to use leftover bananas, since the recipe needs overripe bananas.
The great thing about this recipe is that you could tweak it to make it lactose free or whole wheat without affecting the taste. The only thing I would insist on is to use soft brown sugar or muscovado sugar, because it gives the bread a great brown color. If you like nuts, feel free to add pecans or walnuts.
Ingredients:
2-4 overripe bananas, 1/3 cup melted butter or margarine, 1 cup muscovado sugar, 1 beaten egg, 1 teaspoon vanilla extract, 1 teaspoon baking soda, a pinch of salt, and 1 and 1/2 cups whole wheat flour. 1/3 cup walnuts or pecans, coarsely cut (optional)
Pre-heat oven to 175° C. Peel bananas and place in a large bowl, and cut up/mash with a wooden spoon or a potato masher. Mix in sugar, egg, and vanilla. Mix the flour with the baking soda and salt in the measuring cup, and mix it into the wet ingredients. Add the nuts, if using. Pour into a 4×8 inch silicone loaf pan, and bake for about 45 minutes, or until golden brown and a stick tester comes out clean. Cool on a rack, remove from the pan and slice.